-lack of funds may have led to plea, says former lawyer
United States District Court Judge Dora L Irizarry on Monday accepted the guilty plea entered by Guyanese businessman Shaheed Roger Khan for trafficking in 150 kilos of cocaine, witness tampering and gun running, and she has ordered a probation report on him before sentencing.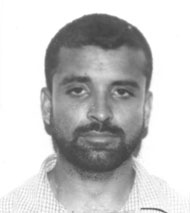 In a session that lasted twenty minutes in a New York court, Khan also changed his not guilty pleas to charges of witness tampering and knowing possession of firearm by a convicted felon. He had been jointly charged with witness tampering with his former lawyer Robert Simels and his assistant Arianne Irving, both of whom are still to face trial in the matter. The New York Daily News yesterday quoted Simels' lawyer Gerald Shargel as saying that the guilty plea by Khan has no impact on his own client's case. "Simels' conduct, which can and will be explained at trial, amounted to nothing more than a lawful effort to vigorously defend his client," Shargel said.
In relation to drug trafficking charges, which included heading a criminal enterprise, Khan only pleaded to count two of the 18 count indictment which is conspiracy to import at least 150 kilogrammes (kilos) of cocaine into the US between January 2001 and June 2006. It means that Khan cut a deal on the 17 other counts he faced in this indictment including the one of heading a criminal enterprise, which carried a mandatory life imprisonment sentence had he been convicted. However, Judge Irizarry after accepting the plea informed Khan, his attorneys and the prosecution, that while they agreed to a 15-year sentence on all the charges, she would await the probation report and examine the details of all the offences. She would then decide whether in "all good conscience" she could sentence him to 15 years.
The guilty plea by Khan, reputed to be one of the biggest drug lords Guyana has ever seen, has had the streets of Georgetown buzzing, with some rejoicing that he will finally be sentenced and others disagreeing on a jail term as they credit his purported crime fighting activities for saving Guyana from criminals.
'Best interest'
Meanwhile, attorney Vic Puran, who represented Khan while he was in Guyana, told Stabroek News that it was in his former client's best interest to plead guilty.
Puran, who said he had advised his former client from the inception to look for a plea bargain disclosed that soon after Khan was charged he was in plea negotiations with the prosecution. But at the end of 2007, he said, they had reached a stalemate as Khan did not like the offer made by the prosecution, which in turn felt he was not giving enough information. He explained that a sentence of 15 years is not "unreasonable," and added that Khan may serve less time because of the length of time he has been in custody.
While he was not aware that a plea bargain had been reached, Puran said he felt that Khan accepted the plea because of financial difficulties. According to him, Khan was facing serious money problems.
Khan's lawyer Diarmuid White had indicated to Judge Irizarry that he was finding it difficult to hire another lawyer after Simels' withdrawal because he had no money. The judge had given Khan a timeframe within which to find a new lawyer. Puran said that while White was still Khan's lawyer, he was not a trial lawyer but rather a "brilliant academic.
According to Puran, from very early in the case Khan had financial problems and he explained that it is not very easy to pay lawyers in the US. He said that Simels was working for a fraction of what he should have been paid as he just wanted to win the case. Though he refused to discuss the witness tampering charge against Simels, Puran believes that his only fault was his desire for over preparation.
Asked about the state of businesses that Khan reportedly holds in Guyana, Puran said as far as he knew there is none. He said that the housing development company, Dream Works Development Inc, is a company on paper as the houses it built have already been sold to people and Khan collected the money so he now has no say in the housing scheme. Puran also disclosed that persons had moved to the court over monies Khan owed but with him behind bars it is unclear how they expect to collect.
'So much injustice'
Meanwhile, a law enforcement source who did not want to be named, felt it is a good thing that the case has now come to an end. But the source noted that there was so much injustice meted out to relatives of many persons who purportedly lost their lives at the hands of a group linked to Khan. The source noted that while justice has been meted out in another jurisdiction, it is sad that in Guyana there is no justice in these cases.  "He did not face justice here but it is good that the US saw the need to ensure that justice be served even though the crimes were committed in Guyana," the source said.
The source opined that Khan is lucky that he faced a judge and left the court while others were not that lucky and never got an opportunity to go to court for the crimes they purportedly committed.
Khan was captured in 2006 when he fled to neighbouring Suriname after local police went after him. He was nabbed during a cocaine bust along with his bodyguards and thrown into jail in that country. He was later arrested in Trinidad while en route to Guyana, and taken to the US where he has been in jail since.
Prior to fleeing to Suriname and in response to police searches of his various properties and a wanted bulletin being issued for him, Khan had placed newspaper advertisements in the Guyana Chronicle and the Kaieteur News stating that he was involved in crime fighting in Guyana and had worked closely with local and US law enforcement officials.
Since being imprisoned, Khan and the prosecution have made some explosive statements about the inner workings of his criminal enterprise and other matters in Guyana. Khan's former lawyer, Simels, had stated that US government investigators had learnt that Khan received permission from the Guyana government to purchase surveillance equipment capable of intercepting and tracing telephone calls made from landline or cellular phones. The software is reportedly only sold to governments.
Only last week, US officials had indicated that the same equipment, which was originally seized from Khan at Good Hope in 2003, was recovered from Simels's New York law offices.
'Criminal enterprise'
Originally Khan faced one count of being in charge of a continuing criminal enterprise where it was alleged that between January 2001 and June 2006, "both dates being approximate and inclusive", Khan, who is also known 'Short Man' or 'Boss Man', knowingly and intentionally engaged in a continuing criminal enterprise in concert with five or more other persons. He reportedly occupied the position of principal administrator, organiser and leader of the continuing criminal enterprise. From this enterprise, the indictment said, Khan obtained, "substantial income and resources.
Khan was also charged with:
* conspiracy to import at least 150 kilogrammes (kilos) of cocaine into the US between January 2001 and June 2006, for which he pleaded guilty to.
* conspiracy to distribute and possess with intent to distribute at least 150 kilos of cocaine between January 2001 and June 2006.
* distribution of and possession with intent to distribute cocaine on or about March 19, 2003.
* distribution of and possession with intent to distribute cocaine on or about March 25, 2003.
* distribution of and possession with intent to distribute cocaine on or about March 28, 2003.
* importation of cocaine into the United States on or about March 3, 2005.
* conspiracy to import five kilos of cocaine between January 2001 and June 2006
* conspiracy to distribute and possess with intent to distribute five or more kilos of cocaine on or about and between January 2001 and June 2006.
* international distribution conspiracy between January 2001 and June 2006 involving five or more kilos of cocaine.
* importation of 500 grammes of cocaine on or about March 2005.
* distribution of and possession with intent to distribute 500 grammes of cocaine on or about March 3, 2005
Khan was also charged with four counts of importation of five or more kilos of cocaine allegedly committed in December 2003, March 2004, April 2004 and May 2004.
On January 6, 1992 Khan was convicted in Montgomery County of breaking and entering and theft. While he was on probation for that offence, he was arrested in Burlington, Vermont for receiving and possessing three firearms while being a convicted felon. He was subsequently indicted and was released on bail in November 1993. He promised to obey all conditions of his release but fled to Guyana in 1994 in order to avoid prosecution and as a result there is an outstanding warrant for him, for violating the conditions of his partial release and an outstanding warrant in Rockville, Maryland for violating the conditions of his probation.
Prior to being arrested, one of Khan's associates had told this newspaper that the businessman never got involved in actual operations. The associate, who had asked not to be named, said the drug accused used his own bodyguards and a network of armed informants–the 'Phantom Squad'–made up of mainly ex-convicts and ex-policemen.
Khan had boasted that when US diplomat Stephen Lesniak was kidnapped and taken to Buxton he had  met operatives from the American Embassy here on a daily basis and provided them with information and hard evidence that led to the issuance of an arrest warrant for escapee Brown, who was thought to have masterminded the abduction. Brown was later cornered in a house a few days after and shot dead by the police.
Stabroek News was told that Khan employed ex-convicts and policemen, paid them and had them gather intelligence on the whereabouts of the five escapees Browne, Troy Dick, Andrew Douglas, Dale Moore and Mark Fraser. The quintet had made a bloody escape from the Camp Street Prison on February 23, 2002. Their escape was the catalyst for a wave of crime that the country had never before experienced. During this period some 21 policemen were shot dead and numerous civilians murdered. This period also saw scores of policemen leaving the job, while confidence in the force was at an all-time low.
Around the Web