President Bharrat Jagdeo and Syrian President Bashar al-Assad on Saturday discussed possible avenues through which bilateral relations between the two countries could be strengthened.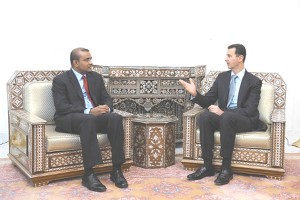 Possible areas of cooperation and investment with regard to culture, tourism and transport were also discussed at the meeting between the two heads of state.
The Arab-Latin American Summit scheduled for March 31 in Doha, Qatar was among the subjects discussed. Jagdeo and al-Assad, GINA said, "agreed that there is need for enhanced cooperation" between Arab countries, Latin America and the Caribbean.
Minister of Agriculture, Robert Persaud and Minister of Foreign Affairs, Carolyn Rodrigues-Birkett are part of the delegation accompanying Jagdeo. The party was welcomed at the Presidential Palace in Damascus on Saturday.
Jagdeo, according to GINA, is on an official visit to the Middle East with the aim of attracting investors to Guyana.
Around the Web