An early morning accident on Regent Street, between Orange Walk and Bourda Street, yesterday left four vehicles damaged.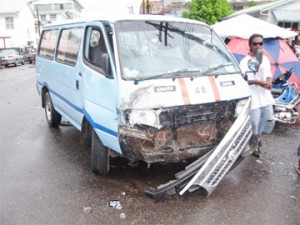 When Stabroek News visited the scene of the accident, shards of broken glass were at points covering a distance of approximately 100 metres along the roadway where a hire car, HB 6805, which displayed a Patrick's Taxi Service logo, hit  a minibus and two cars.
A significant amount of broken glass was noticeable at the spot where the car reportedly hit the minibus. The police had already marked the spot on the road where the impact occurred when this newspaper arrived at the scene.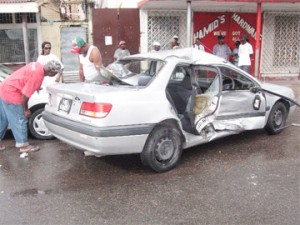 According to an eyewitness, it was raining at the time of the accident, which reportedly occurred around 8 am. The eyewitness  said the hire car was travelling west along Regent Street and first hit another car, PJJ 8728 which was parked in front of the Bourda Post Office. It then proceeded to hit a Route 48 minibus which was proceeding east along Regent Street. The eyewitness said the minibus driver apparently pulled in the corner after noticing the out-of-control car moving in his direction. However, the car slammed into the right side of the bus, the eyewitness noted, and proceeded to hit another car which was at the time parked along the southern carriageway of Regent Street before coming to a halt. He also related that a woman was in the passenger seat of the hire car at the time of the accident.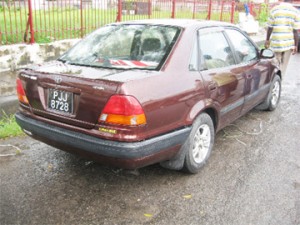 Another eyewitness reasoned that if the minibus had not stopped, a number of persons would have sustained injuries since many persons, including vendors traverse that area on Sunday mornings. It is unclear whether anyone was seriously injured. However, an eyewitness related that only the driver of the out-of-control car appeared to have been injured.
Around the Web