A $119M pump was commissioned on Friday at Stanleytown, West Bank Demerara by Agriculture Minister Robert Persaud.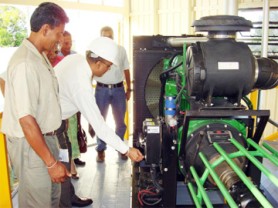 A release from the Government Information Agency (GINA) said that the pump will increase the drainage capacity of the Canal Number Two Polder area and assist in reducing flooding.
GINA stated that the Canal Number Two Polder area is known for its agricultural potential and during the rainy season, it has been affected by accumulation of water in some areas. The installation of the pump will considerably increase the drainage capacity. The pump will be able to work during the high tide when the sluice cannot be opened, the release noted.
Meantime, a release from the Ministry of Agriculture noted that the Canals Polder drainage system was designed to operate with a combination of sluices and mechanically driven drainage pumps. However, the No. 2 pump unit was abandoned in the late 80's, "a period when most of the drainage and irrigation system was in a period of deterioration". As such, the installation of drainage pumps at Canals polder form part of the National Drainage and Irrigation Authority's (NDIA) 2009 capital works programme for improving drainage and irrigation services across the country in declared D&I areas, it noted.
GINA said that Persaud disclosed that almost $1.5B has been invested in drainage and irrigation in La Jalousie, the Canals Polder and Vreed-en-Hoop. Region Three Chairman, Julius Faerber said that the facility will benefit thousands of farmers while Chief Executive Officer of the NDIA, Lionel Wordsworth noted that the Region has a large production area, where 30% of the population is employed in the agriculture sector.
The Stanleytown Pump project involves the rehabilitation of 120 cubic feet of water per second (cusec) hydro flow pump and the installation of a new 150 cusecs, 15 feet TDH high capacity line shaft pump, GINA noted.
Around the Web