A 34-year-old woman accused of converting a quantity of raw gold to her own use was yesterday placed on $200,000 bail when she appeared before Acting Chief Magistrate Melissa Robertson at the Georgetown Magistrate's Court.
It is alleged that on September 16 at Black Water Creek, Essequibo, Vanessa Murray, also known as 'Blacks', a vendor of 58 Howes Street, Charlestown, being entrusted by Margaret Solomon with five ounces of raw gold valued $95,000, fraudulently converted same to her own use.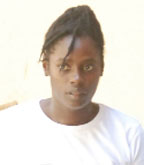 The woman pleaded not guilty to the charge of fraudulent conversion when it was read to her by the acting chief magistrate.
In her own defence, the accused told the court that she was innocent of the charge and made an application for bail on her own behalf.
"My Worship, I don't know anything about this charge and had nothing to do with it," she said.
When given a chance to respond, the virtual complainant (VC) told the court that the defendant whom she had known for three months would usually go to Essequibo to sell her products and she had given her the raw gold to keep because she had trusted her as a friend.
Solomon said, however, that the following day when she was looking for Murray to collect the item, she was nowhere to be found.
The matter was later reported to the police and the defendant was subsequently arrested.
The police prosecutor had no objection to the bail application made by the defendant.
Murray who was unrepresented by legal counsel was successful in her request to be placed on bail.
Her matter was transferred to the Bartica Magistrate's Court for October 13.
Around the Web