Tournament champions Pele Football Club its central defender Charles 'Lily' Pollard, carted off the bulk of the awards at the just concluded 19th Annual Kashif and Shanghai tournament.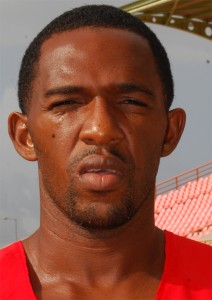 Pele not only carted off the G$1m first prize for their 1-0 defeat of Sunburst Camtown and the beautiful trophy that came along with it, but they also took home eight other awards, with Pollard picking up three individual awards for himself.
Pollard was adjudged the tournament's Most Valuable Player (MVP) along with the finals MVP and the Most Outstanding Defender awards respectively, while his skipper Dirk Archer won for himself the Most Outstanding Midfielder and custodian Shemroy Arthur the Most Outstanding Goalkeeper awards respectively.
Coach Denzil Thompson who was very emotional at the result, following the sound of the referee's whistle, was adjudged the Best Coach and striker Lyndon Symmonds Most Improved Player, as Pele took home nine accolades, even sharing the Best Defensive team award with Sunburst Camptown.
Had Pele's Gregory 'Jackie Chan' Richardson scored the two goals he needed to become the leading goal scorer, then Alpha United's Elton Browne would not have won that award.
Nevertheless, the team known as 'The Hammer'  who started this tournament on a high with a 10-1 drubbing over Berbice's Cougars Football Club, still managed to walk away with the Best Offensive and Fair Play team awards respectively, sharing the latter with Fruta Conquerors.
Camptown's Lance Rolston won the Most Spectacular goal award whilst second runners-up Bakewell Topp XX's inspirational midfielder Kayode Mc Kinnon was adjudged the Most Disciplined Player.
A total of 47 goals was scored during the tournament, with Symmonds scoring the fastest, in the first minute of play during Pele's 3-1 win over Alpha United in the quarterfinals. One goal was scored in added on time, whilst three was scored in extra time and of the seven penalties that were awarded, two were saved and one missed.
The referees were hard at work during the tournament as all the matches saw one or more player being cautioned, issuing a total of 48 cautions and six expulsions with the Topp XX/Rusal encounter, which was the first game of the tournament, being the game with the most cautions, six.
In that game, Topp XX's Collie Hercules received the earliest caution in the sixth minute, but was later joined by BK International Western Tigers' Dellon Fraser whilst three of the six expulsions took place in the Guyana Defence Force/ Bakewell Buxton All Stars encounter.
Around the Web