– Burnett, Pompey upstaged by Hargrove at Madison Square garden in special 600-yard event
by Gary Tim
New York (SMS) — For Guyanese in metro New York, it was billed as a showcase of their two foremost athletes and the first head-to-head clash for compatriots with nearly 34 years track experience.
In the end, they saw their stars pitch at the 102nd Millrose Games but had them gleamed later with a special honour gesture.
Last Friday night total glory evaded Aliann Pompey and Marian Burnett on the indoor track of Madison Square Garden as their splendor was snatched in the seldom-run Women's 600-yard event.
Pompey (1:19.51s) lost the gold to American world championships 4x400m medallist Monica Hargrove (1:19.50s) by the crest of a bib while Burnett (1:22.90s) chased the flock home in the four-person race.
However, Guyanese supporters scattered among the 13,000 crowd cheered wildly for their stars from the time they got onto the track and the Jumbo Trons to the moment they exited.
"I was looking for greater results since we had Aliann running some terrific stuff of late, but, hey! … the race was good, they were unfortunate with what went on, and it was great to be here to see my people turn up in this place," former national sprinter Shadwick Wade commented to Stabroek Sports.
The race petered to a two-part rivalry for first and third places with Pompey and Burnett in both, respectively.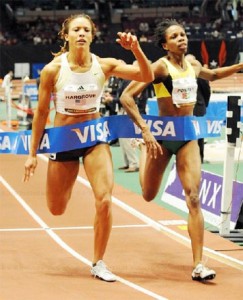 At the starter's gun, Pompey surged to take the pole position in the 3½-lapper and had her strides matched by Hargrove. It was a ding-dong tussle for the lead, especially on the track's tight turns. By the mid-point, both front runners were showing their current good form opening up a comfy gap on Clora Williams (1:22.86s) and Burnett.
Lagging in the rear, Burnett seem contented to bide her time, and use her endurance for a final burst. At the bell, Pompey grabbed the lead and was pushing for her fourth win this season until the brawny American unleashed a late burst and 'some' to pip her at the tape.
Burnett, herself, was undone at the top of the final turn when she clipped with Williams while trying to overtake the Jamaican.
Afterwards, Burnett said "I really wanted to see Aliann win this. She is on form and running real good, and a Millrose win would've been awesome for all of us."
The half-miler, herself was not too upset with her own showing, saying that she ran gamely though she felt she was "outmatched."
She declared:"This is my first flat race since resuming training."
The last major appearance for Burnett was at the Beijing Olympics where she suffered a spike to her ankle and failed to get out the preliminaries, placing fifth in a heat. But, Pompey was sterling. She ran up to world number one Sanya Richards of the US, getting to the semifinal to finish 11th overall – arguably the best result for Guyana in three decades.
A reserved Pompey did not reflect much on her race, simply confirming…"I went out to win and I tried my best."
Her speech was 'snuffy'; symptoms of being affected by the 'dry air' environment in her third Millrose run; having had one Open appearance and a collegiate race, previously.
Pompey said a "tactical error cost me the race", and rued the loss as a bungle that prevented her from joining June Marcia Griffith and Aubrey 'Skinny' Wilson as Guyanese-born Millrose Open champions.
Later in the evening the Guyanese stars were hosted to an appreciation dinner by Consul General to New York, Brentnol Evans whose office neighbours MSG. The dinner was co-hosted by Guyanese entrepreneurs Ron and Rico Ramnarayan and Ryan Kublal at their Spice Fusion Indian Bistro, a kilometer away. There Pompey, Burnett and some of their relatives and friends were treated to a sumptuous mixture of east and west Indian delicacies prepared by gifted chef Walter D'Rosario, as well as special words of commendation.
Evans said their appearance on such a prestigious stage was worthy of being lauded by all Guyanese, at home and abroad. He led by saying…"It was specially proud to see Aliann and Marian promote Guyana tonight, and we are very excited over the possibilities you are creating." He referred to the image building Jamaican and Bahamian athletes have been giving their homelands, and optimistically said "we are digging up, and we'll get there once we work commonly and purposefully, so congratulations again, particularly, to the athletes."
The diplomat also thanked the restaurant and fans, and added, "people need support, and yours is great to help inspire the athletes to continue to give off the best."
Immediately, the tracksters were shored-up by Ron Ramnarayan. "You made me proud being a Guyanese knowing the challenges you face to get to these accomplishments," he said after having personal chats with them. "I wish you guys only the best, and all sports people for that matter," was the yearning of the constantly beaming Ramnarayan who also runs the popular Metro company in Guyana.
He gave a special invitation to the Louisiana-based Burnett to his distinguished bistro located just at the corner of Manhattan's 8th Avenue and 47th Street. Spice Fusion is one of few Caribbean-owned eateries to be classified in New York's Zagat Survey, and its food, service, value and atmosphere have been rated at four or better on the five points scale. It has been featured in the India In New York journal, the Daily News Best Bites, Crian's NY Business Table Talk, as well as on Bob Lape's Dining Diary on WCBS 880AM radio.
In response both Burnett and Pompey were overwhelmed with the gesture to honour them, and expressed their desire to use it as a further motivation. "Thank you all for inviting us. I enjoyed the opportunity of meeting you and it was fun getting time to laugh and mingle away from the track with my country people,"  conceded Burnett, in between savouring the mango mousse – probably a more treasured taste than the one three hours earlier.
Around the Web