By Rawle Toney
St Stanislaus College (Saints), President's College and Guyana Industrial Training Centre (GITC)are the latest schools to register wins in this year's Ministry of Sport Mashramani Inter-Schools basketball tournament, now being played at the Cliff Anderson Sports Hall.
All three schools recorded resounding wins over their respective competitors.  St Stanislaus College trashed the Business School 52-28, President's College made light work of Central High 50-24 and GITC rolled over Plaisance High School 22-11. Playing in the opening game of the triple header, it was obvious from  the first whistle that the boys from the Business School would be in for a long haul by Saints. Cowen Gittens was in superb form, playing well at both ends of the floor and was orchestrating all of the plays for Saints.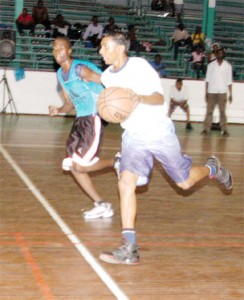 At half time, it was a lop-sided affair with the scoreboard reading 28-8 for the eventual victors. Things never looked promising for the Business School who showed no resistance on the court, losing 52-28.
Gittens led the scoring netting 28 points and while none of the Business School players were able to touch double figures, Ocie Austin top scored with eight points. In the second game of the day, GITC easily put aside Plaisance High but their performance was not too noteworthy. They played worse than the East Coast school but had the better players. Cleveland English led all scorers with 12 points for GITC while Travis Braithwaite had six for Plaisance. In the final game of the day, it was a Richard Mohandatt show as President's College chalked up their second consecutive win of the tournament. Mohandatt who played the leading role for his school at both ends of the court was unstoppable and played well with his other team mates even though they often made the worse of his passes which were too much for them to handle.
The Central team was lacking all the key elements for victory –  a good point guard, a scorer and rebounder. At half time the scores were 28-14 in favour of President's College.
Mohandatt ended the game with 18 points while Joel Joseph provided admirable support with ten points. For Central High School, the lanky Drexil Amsterdam ended with 18 points.
The tournament continues today with Charlestown Secondary females facing New Campbellville Secondary from 16:00 hours and from 17:00 hours, both Bishops' and Plaisance High School would be looking to rebound from the defeats they suffered in their last match when they go head to head.
And at 18:00 hours, Government Technical Institute (GTI) is down to face New Campbellville Secondary.
Around the Web