National wicketkeeper Darwin Christian is pleased with his batting in the West Indies Cricket Board (WICB) sixth round clash against Jamaica at the Guyana National Stadium, Providence last weekend where he scored his first century at the regional level.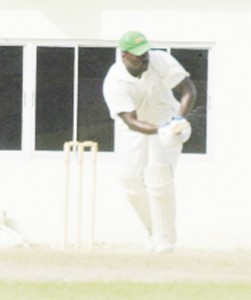 "It's always a pleasure to score a hundred and the feeling is great at the moment. I had the support of the team who cheered me on with words of encouragement. They were constantly reminding me to score heavily, not only in my interest but the team's as well."
The 25-year-old Demerara Cricket Club player had joined forces with his club mate and national captain Travis Dowlin.
The two posted 163 runs for the seventh wicket which enabled Guyana to avoid the follow on for the first time this season.
Most importantly, his maiden century was scored at less than a run-a- ball and included 13 fours and three maximums.
He batted for 123 minutes and when he was dismissed an additional 13 runs later, he had faced 125 balls,  batted for 159 minutes, and added one more four to his previous tally.
"With my ability to hit the ball hard, everyone was telling me that I can make bigger scores than those I have been getting lately and today I decided to mix aggression with defence and I got through, even though I was nervous whilst I was in the '90s."
He added: "That innings was just a personal landmark for me but most importantly it helped us avoid the follow on and that in itself is a great achievement for us this season when you look back at our performance in the previous matches."
His century was the first by a wicketkeeper in six years since Vishal Nagamootoo scored an unbeaten 115 for Guyana against the West Indies 'B' team in the then Carib Beer Cup at the Polly Joseph Stadium in St Croix in February 2003.
Ironically, Christian who averages 19.75 with the bat (with his previous best at this level being 52) replaced Nagamootoo as the national team's wicketkeeper two years later.
He has developed a reputation for giving his wicket away even on good batting surfaces, something he himself has now realized.
"When I look back at certain match situations, and how I got out, I realized that those dismissals were too soft and, at times, easy. I told myself that it is time bowlers start paying a price for my wicket and hopefully, I can become consistent in my batting, starting with this innings."
One such situation that readily comes to mind would be his innings in the last Stanford 20/20 tournament, where he failed to see his team through to a repeat victory over Jamaica as with four runs needed off the final delivery, he only managed two.
"Over and over have I replayed that innings in my mind with a lot of what ifs. This century today is a confidence booster for me as I showed all who had doubts that I can bat and curb my aggressive attitude whilst doing so too. But I am looking to remain consistent with the bat as that's important also," said Christian.
"Travis (Dowlin) was there with me at the other end reminding me of our goal, which is to pass the follow on. And even though we did so, he kept telling me to get a big score. I know I got it, but one of my aims is to see an improvement in the team's batting, as that has been our downfall in the previous matches.
"He (Dowlin) talked me through the nervous 90s by telling me to remain focused  no matter what. He said that they know me and would try to take my wicket with the hope of me playing some ludicrous shot to a bad ball. Hang in there Darwin, were also words coming from the mouth of the skipper to me and I must say thanks to him for the confidence he placed in me."
Around the Web