By Rawle Toney
Sixteen  teams, over $700,000 in cash and prizes, plus the return of the Linden versus Georgetown rivalry will be among the highlights of this year's Next Level Entertainment Basketball Tournament when the event bounces off on March 1 at the Cliff Anderson Sports Hall.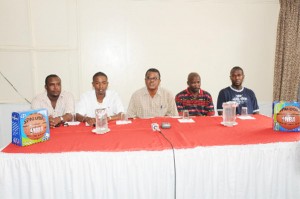 According to the NLE group who, in collaboration with the Guyana Amateur Basketball Federation (GABF), are hosting the tournament, this year's event is going to be the biggest in comparison to the two previous events in 2006 and 2007.
"This year we plan to make it not just another basketball tournament but to have the fans involved since we have a series of activities planned to last throughout the tournament," said Jamaal Douglas who, along with Yannick Charles and Travis Shepherd make up the NLE group.
Speaking at yesterday's tournament launch Douglas said that since both Linden and Georgetown were now very active, the competition level will be top-notch.
Also present was president of the GABF, retired Col. Godwin McPherson, who emphasized that his administration was fully supportive of the tournament since it was much needed.
He added that initially the tournament was supposed to feature one team from Berbice, but that was not deemed economically feasible after a revisit and so they ended up with representation of clubs from Linden and Georgetown only.
All of the teams who are at present competing in the current  Georgetown Amateur Basketball Association (GABA) first-division league will represent the city while, from Linden, there will be seven first division teams and the embattled Kashif and Shanghai Kings.
The Kings, who won the first installation of the tournament in 2006, were recently demoted to second division status by the sport's governing body in Linden after the club had refused to participate in the current Linden Amateur Basketball Association (LABA) first division league.
"All's well that ends well. You must respect the rules of the game; you can't be in a house and not play. So I say let the law prevail but when you're doing so, do it with fairness," said McPherson, who added that Kings' participation was at the request of the promoters.
As it relates to officiating in the tournament, McPherson said that this was becoming a sore point in local basketball adding that the GABF would have to make use of what is at hand at present.
However, arrangements are in train to develop and enhance the referees' pool throughout the Caribbean.
The tournament will conclude on March 15 and all the matches will be played at the Cliff Anderson Sports Hall.
Up for grabs will be $250,000 for the winner while the second place team will take home $100,000, third place $50,000 and fourth place $25,000. The Most Valuable Player of the tournament (MVP) will pocket $10,000 and there is also a prize for the best defensive players.
Around the Web