Judoka Colin Gomes won the U-154 pounds category when the Guyana Judo Association (GJA) held its Mashramani tournament on Sunday at the Marian Academy School's Auditorium earning for himself an on-the-spot promotion.
The Technical/Grading Committee upgraded Gomes, of the Rising Sun Judo club, from a yellow to an orange belt for "outstanding performance,"  secretary of the GJA, Stephanie Fraser, told Stabroek Sport.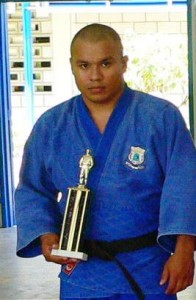 Second place in the 154 lbs category went to Imran Mohamed of the House of Water Judo Club.
In the Over 154 lbs category, Verol Williams, of the House of Water Judo Club, was first with Winston Stuart of  Rising Sun, second and Vernon Williams of House of Water, third.
In the Open category, Bruce Fraser of Rising Sun placed first with Verol Williams and Vernon Williams, second and third respectively.
The referees were: Sensei Charles Ambrose, Sensei Berkeley Charles, Sensei Bruce Fraser and Sensei William Arthur.
GJA secretary Fraser said the association was working towards sending a team of six judokas to represent Guyana in Boa Vista, Brazil at the 'Copa Takashi Hagui Hara' judo championships next month.
In the meantime, Fraser said, local competitions will be used to identify talented judokas for a special training programme as part of the GJA's short-term plans to have Guyana represented at various regional and international competitions during the year.
Long term plans for the GKA include possible participation in the 2012 Olympic Games in London.
Sunday's tournament took place at the Rising Sun Dojo which operates out of the Marian Academy Auditorium, Carifesta Avenue and marked the start of the association's activities for the year.
Around the Web