Trenace Lowe staged a fantastic run in this year's National Sports Commission (NSC) sponsored Mashramani table tennis tournament, demolishing her opponents in the junior categories and turning in equally impressive performances against her more senior counterparts.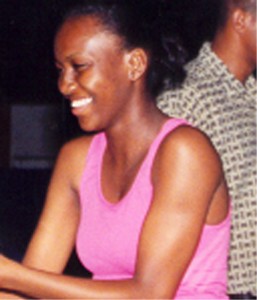 She defeated Natalie Cummings by three sets to two to capture the ladies singles title winning 11-8, 5-11, 11-6, 8-11 and 11-6.
Third place went to Adielle Rosheuvel who defeated Chelsea Edghill in straight sets (11-9, 11-4 and 11-8).
Lowe's next title came in the mixed doubles category  where she paired with Christopher Franklyn to defeat the duo of Mathew Khan and Jody-Ann Blake without dropping a set.
They won 11-9, 12-10 and 11-4.
Third place in that category went to Paul Meusa and Adielle Rosheuvel  who defeated Joel Alleyne and Cummings 11-9, 13-11 and 11-5.
Lowe wrapped up her day by winning the women's doubles teaming up with Rosheuvel to effortlessly down the pair of  Cummings and Ambrose Thomas 11-6,  13-11 and 11-5.
Meanwhile, Franklyn also added another title to his resume  when he and Donald Duff paired to stop Mathew Khan and Orin Hickerson 11-6, 12-10, 7-11 and 11-7.
Third place went to Meusa and Dillon Caesar who gained a walk over from Joel Alleyne and Darwin Walcott.
Franklyn was denied a chance of making a clean sweep of the men's category when he was stopped by Khan in the men's singles finals.
Khan won 11-8, 7-11, 11-4, 11-7 and 11-4.
Third place went to Nigel Bryan who was made to fight off a strong challenge from Alleyne and eventually held on to win 11-13, 11-6, 11-7, 11-13 and 11-8.
Bryan stormed back from two sets down to win the "B" Class Open against Hickerson in another nail-biting ecounter.
He won 9-13, 3-11, 13-11, 11-8, and 11-6.
Third place went to Jody-Ann Blake.
Blake, however, bounced back to win the "C" Class open by defeating Gibran Hussein 9-11, 11-9, 11-6 and 11-7 in the final.
Third place went to the improving Dwayne Gibson.
The presentation of prizes will be held today at the Cliff Anderson Sports Hall from 4pm.
Around the Web