The Demerara Distillers Limited (DDL) under the El Dorado brand yesterday launched the ninth edition of the Guyana Cricket Board (GCB) El Dorado limited-overs Inter-County competition which bowls off tomorrow at the  Anna Regina Community Development Centre ground between Demerara and Essequibo.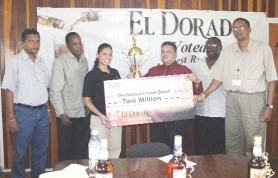 Yesterday at the GCB boardroom, Brand Manager of the DDL Maria Munroe handed the sponsorship cheque of $2M to GCB Vice President Bissondyal Singh. Munroe, in brief remarks, stated that the company was pleased to continue its partnership with the GCB.
She added that the company was committed to the development of sports and youth in totality in Guyana and urged fans from all three counties to come out and support their respective teams. Patrons will pay $500 to enter all matches.
And Singh, in a short statement, extended the GCB's gratitude to the company for making the tournament possible for yet another year.
He said that the upcoming tournament will be used as a prerequisite to the regional limited overs tournament scheduled to begin late next month. On the other hand, Marketing Executive of the GCB, Ramsey Alli, said that there will be great promotion of the finals that will be played under lights (day/night) at the Guyana National Stadium, Providence on October 10.
Alli predicted that the tournament will be a keenly contested one and  reassured the company of the board's gratitude for their generosity.
Berbice are the defending champions after defeating Demerara in last year's final.
Fixtures for the tournament:
Round 1- September 30: Essequibo vs. Anna Regina at Anna Regina
Round 2- October 3: Berbice vs. Essequibo at Blairmont
Round 3- October 4: Demerara vs. Berbice at Wales
Final- October 10 (Day/night): top two teams in the preliminary rounds
Around the Web