By Marlon Munroe
The Demerara and Essequibo match today will signal the commencement of the first round of the El Dorado limited overs Inter-County tournament.
The round robin tournament  gets underway at 9.30am at the Anna Regina Community Centre ground.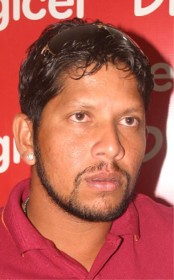 West Indies middle-order batsman Ramnaresh Sarwan will skipper Demerara whose team includes newcomers  Andrew Light Jr., Sauid Drepaul and Kellon Carmichael.
The rest of the squad remains the same as that which contested the four-day game at the Anna Regina Community Centre ground last week  Essequibo lost after taking first innings points.
Off spinner Zaheer Mohammed is the vice-captain.
Essequibo has also included Royan Fredericks, Ryan Hercules and Navin Bahadur while Ramesh Narine returns to the helm.
Narine should be leading a confident Essequibo line-up against Demerara, who were facing defeat at one time in their four-day encounter of the Guyana Cricket Board (GCB) senior tournament.
The Cinderella County team has in its makeup the destructive duo of pacers Trevor Benn and Trevon Garraway, national fast bowler and no rabbit with the bat, who shared 15 wickets between them  in the Demerara game.
In the batting department, they have the level-headed, left-handed opener Norman Fredericks, who scored a dogged half century in the second innings, Delon Heyliger who top scored in the match with an admirable 81 and Yogeshwar Lall and Mohindra Boodram at the top of the order.
Demerara's batting card runs deep although erratic stroke play tends to diminish the quality of some of the players in the team.
However, on any given day there can be moments of brilliance coming out and Essequibo can be put to the task to defend a high score or find themselves being skittled out for a paltry score.
Their batting will be led by Sarwan, who is coming off a half century against Essequibo and opening batsmen Shemroy Barrington and Rajendra Chandrika.
Chandrika made a glowing 150 not out against the Guyana National Industrial Corporation (GNIC) in the final of the Cellink Plus first division tournament earlier this month.
In the middle order there are Christopher Barnwell, who also opens the bowling, Leon Johnson and Steven Jacobs, who snared a five-wicket haul in the second innings against Demerara.
And at the bottom of the order there is leg spinner Troy Gonsalves  and off spinner Zaheer Mohammed.
Defending champions Berbice will swing into action on Saturday against Essequibo at the Blairmont Community Development ground.
Demerara team reads: Ramnaresh Sarwan (Captain), Zaheer Mohammed (V. captain), Rajendra Chandrika, Shemroy Barrington, Andrew Lyght Jr., Krishna Deosarran, Gajanand Singh, Leon Johnson, Steven Jacobs, Troy Gonsalves, Joseph Perry, Christopher Barnwell, Sauid Drepaul and Kellon Carmichael. Coach: Garvin Nedd and Manager Robert 'Pacer' Adonis.
Standbys: Wasim Haslim, Deon Ferrier, Vishal Singh and Anil Jairam.
Essequibo: Ramesh Narine (Captain), Norman Fredericks, Royan Fredericks, Delon Heyliger, Ryan Hercules, Anthony Adams, Yogeshwar Lall, Trevor Benn, Trevon Garraway, Navin Bahadur, Geewan Singh, Mohindra Boodram and Andrew Williams. Coach: Alfred Maycock and Manager: Mervin Pearson
Berbice: Assad Fudadin (Captain), Sewnarine Chattergoon, Richard Ramdeen, Rajin Ivan, Karamdat Bissoondial, Jonathan Foo, Narsingh Deonarine, Krishendat Ramoo, Delbert Hicks, Davendra Bishoo, Veerasammy Permaul, Brandon Bess, Esaun Crandon and Steven Latcha. Coach: Adrian Amsterdam and Manager David Black.
Standbys: Devon Clements, Royston Crandon, Ranga Latchana, Michael Newland, Keron Fraser, Arthley Bailey and Andre Percival.
Around the Web