By Marlon Munroe
Quincy Clarke of the Guyana Defence Force (GDF) romped convincingly to victory in the 100 and 200 metres upstaging Michael Saul and Keith Roberts of the Guyana Police Force (GPF) in the process on the final day of the annual Joint Services Track and Field Championships at the Camp Ayanganna ground yesterday.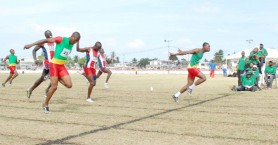 Clarke, the 25-year-old Lance Corporal, recorded a winning time of 10.5 seconds in the marquee 100m event and 21.4 seconds in the 200m race.
He also anchored the GDF's 4x100m relay team to victory in a time 43.9 seconds after a GPF athlete dropped the baton on the third leg.
The final day began with GPF holding a 12-point lead but at the end of the day GPF had relinquished their title to GDF who finished on a whopping 567 points.
GPF finished in second place with 514 points, Guyana Fire Service ended on 153 points and Combined Services finished in the cellar position with 105 points.
Prior to the 100m event many spectators felt that Saul would have prevailed although the GDF athletics coach Robert Chisolm had hinted of a secret weapon and an upset.
That weapon turned out to be Clarke who stunned many into silence even as his teammates revelled in his triumph over Saul who clocked 10.6 seconds for second place and Rupert Perry who recorded 10.7 seconds for third.
In the 200m Clarke continued his dominance running in lane two making up the stagger on Saul and Roberts by midway of the second turn.
Saul struggled and grimaced to the line but it was Perry and Roberts who took the silver and bronze medals in 21.6 and 21.7s respectively.
After his 200m victory Clarke stated that he went into the race expecting good results. He also noted that while he did not get the start he needed in the 100m he was satisfied with the outcome. He said that he had been performing well at sports at school in Leguan but many factors prevented him from participating at the National School Championships.
He said that he will be looking to improve his times in both events and even compete at national events.
On the distaff side GPF's Leota Bobb had the tables turned on her after her win in the 100m by former youth nemesis Rushell Coates. In the 200m Coates, whose conditioning was more evident down the homestretch, won in a time of 25.7 seconds as Bobb, who suffered from cramps at the end of the race, recorded 26.1 seconds for second place. Alana Grant was third with a time of 26.7 seconds.
In the 100m earlier in the day Bobb cruised to victory in 12 seconds flat with Coates taking second with 12.4 seconds and GDF's Kim Daly 12.8 seconds,third
GDF took away both the male and female 400m relays in times of 52.7 and 43.9 seconds respectively.
Trevor Scotland of the GPF ran a tactical race out of lane six but his teammate Winston George was much too strong coming down to the wire to win the 400m in 49.8 seconds, Scotland 50.0 seconds and Mark Edwards 50.1 s were second and third respectively.
In other results Roxana Rigby (female 100m), Okemi Stewart (male 100), Cleveland Forde (male1500m) and Alika Morgan (female 1500) won their invitational races with relative ease. In the Ranks 4x100m relay GDF men and women emerged victorious in times of 43.8 and 57.2 seconds respectively.
GDF's Ashanti Scott, who won the 1500m in a time of 5:14.4 seconds, and Natasha Alder of GPF were adjudged joint female champion athletes with 30 points apiece.
Around the Web