It pays to be number one.
Sixteen-year-old Neil Reece, the country's top juvenile cyclist, recently received a cash award of $35,000 for his recent outstanding performances.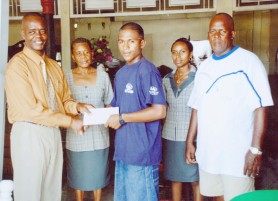 Berbician Reece, has been campaigning in Georgetown with a fair amount of success. Over the past two week-ends in the National Park circuit, Reece had the distinction of lapping the juvenile field in a 10-lap event.
He did the same thing the following week. For good measure Reece also placed fifth in the senior category.
As a result, Furniture World of Main and King Streets, New Amsterdam decided on a monetary reward for the young cyclist who will be participating in tomorrow's cycle track meet at the Everest Cricket Club ground.
Reece also received a special incentive award from former Mayor of New Amsterdam, Errol Alphonso.
Alphonso is Patron of the Flying Ace Cycle Club of Berbice of which Reece is a member. Reece was also congratulated by executives of the Flying Ace Cycle Club including John Lewis, Mursalene `Muchoo' Bacchus, and Rhonda Russell.
Meanwhile, the cyclist's main sponsor, Faizal Ally, advised the young champion to keep his focus and to maintain his discipline keys to his advancement in sport and in life.And, Reece and his coach Randolph Roberts would like to thank all the businesses that have been supportive of Reece's career adding that they hoped the support would continue as Reece aims for more national and international success.
Around the Web