B House entering the last day in the lead from the field events held the previous day took second place in the march past that they surrendered to the defending champions.
Subsequently, the powerful B House was unstoppable as their athletes placed in most of the races that they participated in.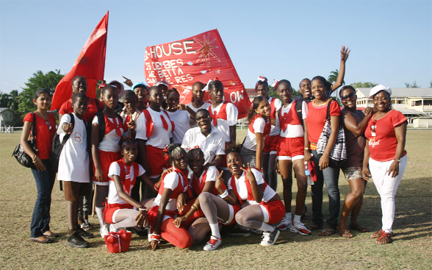 At the end of the day's proceedings B House was sitting firmly in the winning position with a 77-run lead on its way to amassing 473 points.
E House led by Kirk Moses finished in the second position with 396 points while G House, a recent addition to the school's formal three-house system, took  the third position with 361 points.
Assistant house mistress of B House Teseaga Alleyne said that despite challenges in the lead up to the championships she is pleased with the performance of the house, especially since the athletes worked hard and she praised them for their efforts.
The day's marquee event saw prominent youth athlete from E House Dellon De Abreau of the Police Sports Club (PSC) putting the
"upstart", as he eloquently put it, Orin Sobers in his place in the 100m event in a time of 10.86 seconds.
De Abreau, after three false starts in the race, got out of the blocks well and executed his race beautifully from the drive to acceleration phases and even did some showboating down to the end to signal his superiority in the event that he has dominated for the past three years at the institution.
A struggling Sobers finished in second place. De Abreau after the race stated that he is still the ruler in the event and he will continue to rule the roost until he leaves the school. He noted that the younger athlete needed to show him the respect he deserved since he has been working hard.
In the 200m De Abreau, who was running with influenza symptoms, was more clinical in winning the race. He beat his nearest opponent by 15 metres after he ran both turns well and continued his form down the homestretch.
On the distaff side Andacia Greene of C House, formerly Castello House, maintained her supremacy when she grabbed the sprint double in the 100 and 200-metre races.
In other results 2009 CARIFTA 1500 metre gold medalist Jevina Straker sent a stern warning to her opponents as she warmed up with a stunning win for the inter-schools tournament next week. The diminutive Straker paced her race from the beginning and strode away from her opponents in the penultimate lap of the race.
Meanwhile, C House finished in fourth place with 341 points, D House 309, A House 284 and G House 236 points.
Around the Web