Britany van Lange broke a total of four records at the weekend's Inter-Club Distance Meet hosted each year by the Guyana Amateur Swimming Association (GASA).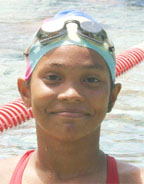 Van Lange who swims in the 11-12 age group broke four records in the 1500m freestyle, 200m butterfly, 800m freestyle and 400m freestyle.
During the Mashramani Swim Meet earlier in the year van Lange broke her record in the 400m freestyle knocking off almost eight seconds from the time she held last year. She clocked 5:25.32s to better her previous record of 5:33.69s. Her new record is a blistering 5:08.67.
Travis Henry in the male age 12 category participated in four events managing to break the record in the 1500m freestyle against fellow team member Tevin Parris. The old record was set by Justin Jairam of Orca Speed Swim Club in 2000 with 26:38.51. Henry finished with a new record of 21:43.64. Henk Lowe, Athena Gaskin, Soroya Simmons, Sheik Amir, Noelle Smith, Athena Foo, Niall Roberts and Darcy Chambers were among other athletes who broke records in their respective races.
The Inter-Club Distance Meet is held annually to keep swimmers in competitive mode when no international competitions are occurring while encouraging swimmers to compete in longer distance races in the pool.
The events took place over the course of Saturday and Sunday with a total of four swim clubs and 68 events to complete.
At the end of the day's activities Dorado Speed Swim Club came out on top after scoring a total of 380 points followed by Dolphin Speed Swim Club with 186 points. Silver Shark Aquatic Swim Club and Orca Speed Swim Club had to settle for third and fourth place respectively.
GASA President Karen Pilgrim said the swimmers will have a short break before preparations for the National Swimming Championships later in the month.
Final Scores from Inter Club Distance Meet:
Women-Team Rankings
1. Dorado Speed Swim Club           235
2. Silver Shark Aquatic Swim Club   58
3. Orca Speed Swim Club                46
4. Dolphin Speed Swim Club             6
Men-Team Rankings
1. Dorado Speed Swim Club           145
2. Silver Shark Aquatic Swim Club   98
3. Orca Speed Swim Club                79
4. Dolphin Speed Swim Club          180
Combined Team Scores
1. Dorado Speed Swim Club            380
2. Dolphin Speed Swim Club          186
3. Silver Shark Aquatic Swim Club   156
4. Orca Speed Swim Club                125
Around the Web