Guyana, say hello to Roger Mayers, the 28-year-old Bajan who says he is here to 'mash up' the lap record at the South Dakota Circuit on Sunday driving his much talked about Ford Focus in the third and final leg of the Sea Board Marine, Caribbean Motor Racing Championships (CMRC).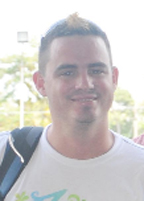 The present lap record is  held by Jamaica's 'King' David Summerbell, 34.98 seconds, with Guyana's Andrew King having the second fastest time, 35.06 seconds, but Mayers who holds the lap record at the Bushy Park Circuit, 40.99 seconds, believes that the make of the track in Guyana suits his car perfectly.
"Barbados is a tighter track, and actually suits the two wheel drive cars quite good, especially Andrew King. He was very quick in Barbados, but I think the track here is going to favour the higher horsepower Turbo, four-wheel drive cars, so I think I'm going into this race meet with a pretty good feeling and I think the car is going to be quick from the get go and I'm confident we'll break the record," Mayers said.
The man who leaves persons amazed at the speed of his car, said that prior to coming to Guyana, they had done some work on the machine and the alternator problem which had plagued him at the last CMRC meet in August was resolved now and  he is more than ready to put on a great show in Guyana.
"I'm pretty excited about being here because this is the first time I'm carrying the car outside of Barbados. We spent a lot of time developing the car and making sure that when we travel we would  be very successful and now we feel it is ready to take on the best of the rest, so I'm ready to rock and roll!"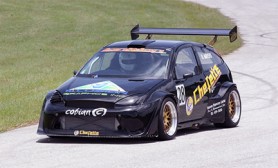 Already walking tall as many believe that on Sunday Mayers would be the man to beat, the young Bajan driver said that he hopes that he would be the one setting the pace just like he did in his homeland.
In the second round, Mayers had actually finished on pole position for the first race, having driven the fastest time of the day (41.064s) but he was relegated to the back of the grid along with Guyana's Andrew King (41.864s).
This certainly didn't halt Mayers from making his presence felt in the first race and after two laps, he found himself in a good position to win, but his extreme driving style certainly caught up with him and he ran into the fence coming off the first turn at Bushy Park.
That's all behind him now, he observed, and he is looking to make up for his unfortunate run at home and do well in Guyana, adding that at present he is not really concerned about too much as it relates to the competition.
"The main thing that I'm concerned about is that I was told, dust and sand is a big issue and obviously with the turbo cars, if you do get sand in the air filter then its going to returbo charge it, so we brought four air filters and we plan to change them after every time we go out, other than that the only other concern is that we have to fine tune the suspension but I don't think I'll have a lot to do," Mayers added.
Roger and his brother Barry were initially  scheduled to be here for the meet, but  he said that the family business in Barbados was too demanding to allow his brother to come and since his car is in better shape he took the journey.
"We have a lot more work to do on my brother's car but I know he would have loved to be here with me, but like I said, business right now is very demanding so he had to stay," Roger told Stabroek Sport.
From now until race day, the 28-year-old says he plans on enjoying Guyana while keeping a close eye on the competition and just getting  familiar with  the track and preparing for the big showdown.
One thing for sure, Mayers will certainly have to show what he is made off when he revs his turbo-charged Ford Focus against fellow Barbadian rivals Douglas and Mark Maloney as well as current points leaders Summerbell and the Guyanese quartet of Andrew King, Mark Vieira, Kevin Jeffery and Gavin Gayadin, no matter how fast his car is.
Around the Web