Hi Everyone,  have you ever been to a restaurant, eaten a meal or a particular dish and then tried to replicate it at home? Me too and often! Although it is not exactly the same, the results are usually pretty good but then you resign yourself to the fact that there are secrets and special ways of making certain things that can never be replicated in the home. Well, while the two dishes I present to you today may not be up to restaurant quality, they sure satisfy my craving for them.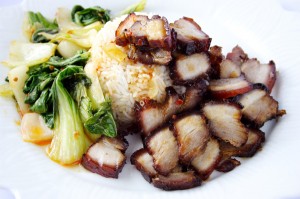 Chinese cooking according to world renowned author and consultant, Deh-ta Hsiung, has more than fifty different methods that are divided into four main categories: water-cooking (boiling, poaching, blanching, and stewing), oil-cooking (frying and braising), steam-cooking, and fire-cooking (roasting and barbecuing). A single dish, he says, may require one, or two or even more cooking methods. I think that for many of us lovers of this cuisine, these varying methods of preparation and cooking is what draws us to it.
I had long wanted to try creating the Cantonese-style crispy roast chicken that I've eaten so often in restaurants but when I learnt about the many steps – like the 5-hour air drying and the bathing of the chicken in hot oil while attached to a hook, and the probable danger involved – I decided to shelve the idea, at least for a while. However, I read that with some practise and the right ingredients, I can make homemade Char Siu (Chinese Barbecued Pork) and Siew Yuk (Chinese Crispy Roast Pork), there was no holding me back. Off I went to the home of "Proper Pork" (a slogan made popular throughout Barbados thanks to the owner of one of the largest supermarkets here. The supermarket has its own pig farm and sells the freshest meat).
First, you have to start with the right cut of meat – pork belly. In our part of the world, we refer to it as pork flap; so when you go to get your meat to try either or both of these recipes, ask for the pork flap. Both of the recipes recommend this part of the meat but pork shoulder can work also but trust me, get the pork flap. When cooked, the meat will have perfect layers of fat and meat. The meat once cooked is sliced thinly so you don't have to worry about consuming a lot of fat. Because these dishes are so flavourful, you will not find it necessary to overeat, okay, you might overeat because it is that good! Do not get any lean pieces of pork for these dishes, the texture and taste which are important will not be the same and the result will also be affected by the temperature of the heat used.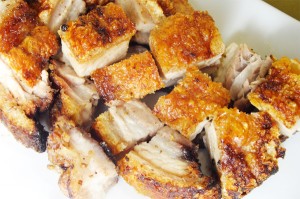 The Char Siu (barbecue) requires marinating. A 24 to 48-hour marinating would be excellent but hey, if 2 – 3 hours is all you have, then so be it. The ingredients for the marinade can be bought in any good grocery store – sweet thick soy sauce, regular dark soy sauce, oyster sauce, fish sauce along with regular pantry items like sugar and garlic is all you need. Roast it in a very hot oven for about 40 minutes flipping it once to guarantee even colouring. Let the meat rest and then slice thinly. The juices captured in the pan can be made into a sauce to serve with the pork.
For Siew Yuk (crispy roast pork), a few hours or an overnight marinate is all the time you need to infuse the meat with flavour. Salt, five-spice powder, ground black or white pepper, some ginger if you like, along with a little sugar and a couple tablespoons of regular white vinegar and you're on way to making your own crispy roast pork. The main star in this dish is the skin, it becomes crackling. I swear you'll find yourself focusing more on the cracking than the meat. It's almost as if the meat is in the way of the prize.
The key to excellent crackling lies in the skin being really dry, not only at the outset but also during the cooking process. Hey, guess what makes the skin puff up and take us to crackling heaven? The high heat yes, but the secret is the vinegar! Think about it. Vinegar works in a variety of ways depending on what it is applied to – it cures, it preserves, it makes certain things shrink and it also provides balance to flavours in many dishes. What happens in this case of the roast pork is that the vinegar penetrates the skin of the pork naturally and due to the little slits made with your knife, and filters down to the fat and melts it; at the same time, it causes the skin to puff and become crispy all the while subtly flavouring the crackling skin! Oh yum big time!
I have to warn you, the hardest part of making these two dishes is fighting the urge to start eating as you are cutting up the meat before serving it to your family or friends. Just as in the case of the Char Siu, the meat is cut into small pieces and served. A sharp chopper works best because while you can easily slice through the meat, you'll have to chop the cracking so that everyone gets cracking on top of their pieces of meat.
With dishes this flavourful, all you'll need to serve with them are plain rice, pepper sauce and some kind of vegetable. Or you can do like I did one day and served it with boil-and-fry cassava. Actually, you can serve it with whatever you like. I promise you, once you make either or both of these dishes, you'll be making them often and your love for pork as you know it will move to a higher realm.
Cynthia
tasteslikehome@gmail.com
www.tasteslikehome.org
Char Siu (Chinese BBQ Pork)
This recipe requires overnight marinating
Ingredients
2 tablespoons + 1 teaspoon white sugar
3 cloves garlic, crushed
2 tablespoons sweet soy sauce (Kecap Manis)
2 tablespoons dark soy sauce
1 tablespoon + 1 teaspoon fish sauce
2 tablespoons oyster sauce
2 pounds pork belly (pork flap), sliced
½ cup water
Equipment
1 medium bowl
1 large zip plastic bag
1 plate
1 baking pan double-lined with foil and rack
1 pair tongs
Method
1. Add all the ingredients except the pork, to bowl and stir to thoroughly mix all the ingredients
2. Place pork belly/flap into zip bag. Pour Marinade into bag, seal, and massage with your hands to ensure that the marinade gets all around the meat. Place on plate and refrigerate overnight to marinate.
3. Preheat oven to 400 degrees F. Meanwhile, take out pork to come up to room temperature
4. Remove rack from baking pan and set aside for use later
5. Pour the contents of the bag into the pan and arrange pork. Bake for 15 minutes. Using your tongs, flip the meat over and bake for another 15 minutes.
6. Remove pork from pan, pour ½ cup water into pan then insert rack into pan and add back the pork on top, return to the oven and cook for 10 – 15 minutes
7. Remove pan with pork from oven and let meat rest for at least 15 minutes. Pour off the liquid in pan to use as a sauce
8. Slice pork thinly and serve over cooked rice along with some veggies and pepper sauce or a sambal
Note
● Do not make this recipe with a lean cut of pork, it will ruin the meat and make it dry. Use pork shoulder (butt) as a substitute
Siew Yuk (Chinese Crispy Roast Pork)
Ingredients
2 pounds pork belly or pork shoulder
1 ½ tablespoons coarse sea salt, divided
1 teaspoon table salt
2 teaspoons Chinese 5-spice powder
1 teaspoon ground white pepper
1 teaspoon sugar
2 tablespoons white vinegar
Equipment
1 sheet pans
1 baking rack
1 sharp knife
1 pastry brush
1 small bowl
Paper towels
Method
Add table salt, 5-spice powder, white pepper and sugar to a bowl and mix well. Set aside
Pat dry the pork, especially the skin. Transfer to sheet pan and turn the pork skin-side down and score the meat lengthways about 1 cm, not too deep
Rub the spice mixture all over the meat; be sure to get it in between the cuts as well
Rub 1 tablespoon coarse sea salt all over the skin, place in refrigerator uncovered and leave to marinate overnight, this will also aid in the drying of the skin
Remove from refrigerator 1 hour before ready to cook or if you live in a warm climate, ½ -hour before. Pat dry any moisture seen on the skin. Insert rack into pan and place pork on top of rack. You can opt to line the pan with foil at this stage
Preheat oven to 400 degrees F
Sprinkle remaining ½ tablespoon coarse sea salt and add pork to oven and roast for 20 minutes. At this interval, prick all over the skin of the pork with the knife and baste liberally with the vinegar. Turn heat to 450 degrees F and let cook for another 30 – 40 minutes. This time will vary depending on your oven and how quickly the skin puffs up and becomes crispy
Remove from oven and let rest for at least 15 – 20 minutes before carving
To carve, place meat skin-side down and cut through meat with sharp knife and then chop once you've reached the skin. Or just opt to chop the roast into pieces and serve
Note
● Marinating overnight for the skin to dry out is best. However, if you can't do it overnight, then do it for at least 6 hours.
Around the Web