Hi Everyone,
Twice each year I go through a phase where I find food unappealing. I find myself not feeling hungry and even when I try to envision my favourite dishes I generally like to indulge in, nothing happens. There's no excitement. No love for food of any kind. I am currently going through one of those phases.
Before I became a food columnist I would often have to force myself to eat when these anti-food phases hit me. However, since 2006 when I started my food writing, it became mandatory to cook because I have to have something to talk about in my columns, something to share with you.
So, given that I am going through one of these phases now, I've decided to try and reignite my passion by trying out some new recipes. It's a great time for my tasters because I find myself unable to eat the same thing twice and end up cooking everyday. This week I'd like to share some of what I've been cooking with you.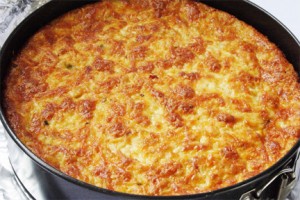 Corn Pudding – my mother made her version of this dish when I was very young but she called it corn custard. I liked the idea of it but was not as thrilled about it as I thought I'd be. Something was not quite right. Since then, I've seen it served at various functions but stayed clear of it. Then, a couple of months ago a regular reader of my column and blog told me about a really tasty corn pudding she had at a luncheon. She asked the host for the recipe and shared it with me.
I tweaked the recipe a bit and was pleased with the results. Some of my tasters want to know when next I'm making corn pudding. Thanks for the recipe Rochelle!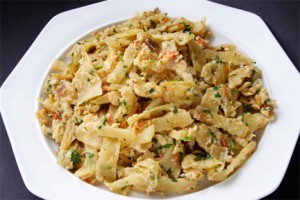 Kotthu Parota – literally translated this means minced parota. It is leftover paratha chopped up and tossed with beaten eggs, vegetables and meat in some cases. It's a street-food in various parts of South Asia. I bookmarked the recipe to use the next time I cooked roti and had some leftover.
Nice! That's how I'd describe it. This dish really gives new life to the roti and while I made it as breakfast, it can certainly be served for lunch or dinner. Be sure to give it a try.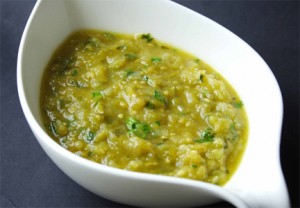 Green-tomato Choka – I enjoy the curious stares I get from people in the supermarket and market when I load up on green tomatoes. The cashier actually turned up her nose as she cashed my bag of tomatoes and gave me a look that said: are you sure you want this?
Tomato choka is traditionally made with ripe tomatoes but I figured that it would be great with green tomatoes also, especially with a bit of tartness balanced out with a little sugar. I was right! I loved this so much that I did not share it. I kept it all for myself.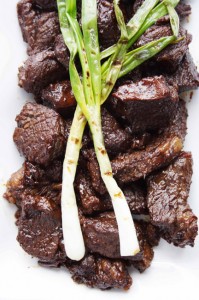 Brown Beef – my aunt had a friend, Rafi, who used to make this dish often. It is so simple and very flavourful. The key is to use the right cut of beef, you don't want lean beef. I used rolled chuck roast. Do not over-season the meat either; you want the flavour of the beef to come through. Rafi's Brown beef is beef cut into large chunks and seasoned with salt, black pepper and a touch of casareep and cooked in its own juices until it is soft and no liquid is remaining. In a pressure cooker, it would take between 17 – 20 minutes. If using a regular pot, turn the heat to low, cover and let simmer until done.
That's it for this week. To all the mothers, especially my mom, sister and all the women in my life who are mothers, HAPPY MOTHERS DAY!
Cynthia
[email protected]
www.tasteslikehome.org

Egg Kotthu Parota
Ingredients
2 paratha roti, leftover
2 tablespoons oil
¼ cup diced onions
½ cup diced tomatoes
2 tablespoons chopped cilantro, divided in half
Salt to taste
Minced hot pepper to taste
¼ cup water
3 tablespoons sliced green onions (white & green parts)
3 eggs, beaten
Method
1. Tear or cut roti into small pieces
2. Heat oil in pan
3. Add onions, tomatoes and 1 tablespoon cilantro along with salt and pepper to taste. Sauté for 1 – 2 minutes
4. Add roti and stir to mix
5. Drizzle water over the entire mixture; reduce heat to low/simmer, cover pan and let cook until the water dries out
6. Mix green onions into beaten eggs
7. Pour egg mixture into pan with roti, season with salt to taste and turn heat to medium. Stir to mix and let cook until eggs is cooked
8. Stir in cilantro and serve hot.
Corn Pudding
Yield: 1 (10-inch) cake pan
Ingredients
2 (15 oz) cans creamed corn
2 (15 oz) cans whole corn
½ cup evaporated milk
3 eggs lightly beaten
2½ tablespoons granulated white sugar
½ teaspoon salt
½ teaspoon ground white pepper
4 cups grated cheddar, divided (3 cups in batter and 1 cup for topping)
½ cup chopped sweet peppers (variety of colours)
¾ cup plus 1 tablespoon all purpose flour
Equipment
1 large bowl
1 wooden spoon or rubber spatula
1 (10-inch) spring form pan, greased
1 baking sheet
1 wire rack
Method
1. Preheat oven to 375 degrees F
2. Add cream and whole corn to bowl and mix thoroughly
3. Add milk, eggs, salt, pepper and sugar and incorporate fully
4. Add cheese and sweet peppers and mix
5. Stir in flour until everything is fully incorporated
6. Pour batter into pan and tap lightly to release any bubbles
7. Sprinkle remaining cheese all over the top of batter
8. Transfer pan to baking sheet and place in oven
9. Bake for 45 minutes to 1 hour or until a knife inserted comes out clean
10. Place on wire rack and then cool in pan for 15 minutes. Unmold and let cool to room temperature
11. Cut and serve
Note
● The baking sheet is to prevent any leakage from the pan
● I used a habanero cheddar cheese to give it a little kick (eliminate white ground pepper if using this cheese.
Around the Web