Seventeen-year-old Jenelle Babb was crowned Miss Guyana Talented Teen last Saturday night and she describes the win as a "stepping stone to bigger and better things."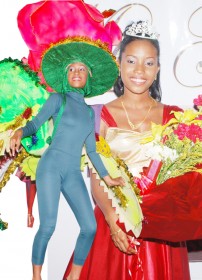 Proud winner of a laptop and $50,000 along with a long list of other prizes, plus the opportunity to represent Guyana at regional pageants, Jenelle, in a recent interview with The Scene said it is certainly not the last Guyanese have seen of her on the local pageant scene. She outshone nine other contestants to become the queen when the pageant was held at the Duke Lodge in Kingston.
Even though the fact that she won the Talented Teen crown was still "sinking in" days after the pageant, the Lindener already has her eyes set on the Miss JamZone pageant next year. She would have liked to enter the Miss Guyana Universe and World pageants too but standing at 5ft she disclosed that she is too short to enter those pageants as they have a height stipulation.
"I really like the whole idea of pageantry, every time the opportunity knocks I make myself available to pageants and modelling," Jenelle told The Scene.
Jenelle is the third Lindener in recent times to make the mining town proud. Her win comes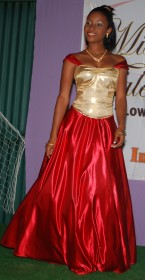 on the heels of Malika Boyd winning the GT&T jingle and song competition and Charis Joseph being crowned Miss JamZone and she told The Scene that her town folk are really giving her the love.
"It is like people are happier than me… I went on the road earlier and they were all happy and telling me how happy they were that I won," she said.
When The Scene caught up with the new queen at her Linden home via the telephone, she described winning the crown as a "great achievement" and said while her main goal in entering the pageant was of course to win when it actually happened she was stunned.
"I think I am still waiting to be crowned… it is like I know I won but like the crown is not there yet," was attempt to describe her feelings.
She was very confident up to the point of answering her final question as she kept questioning herself after she left the stage and wondering what else she could have done to make the answer better. Jenelle feels she did very well in the swimsuit segment — she was very confident in the daring two-piece number she wore — and her talent piece which was a calypso. She has been singing calypso since she was a child.
For the final question, Jenelle was asked to state what her most selfless moment was and describe why and she told the audience that visiting the Mahaica Children's Home and sharing things with the children was her most selfless moment.
But after she had answered, Jenelle said, she actually thought that another contestant would have won and even after that girl was named second runner-up she still had doubts.
"So when they called the name of the first-runner-up I was still waiting to hear who the queen was and it was not until they called my name that I realised I was queen."
And of course it was not her first pageant she is so much into pageantry that she was crowned queen at the age of 12 when she won the Miss Linden Pre-Teen pageant and earlier this year she placed second in the Miss Linden Town Week pageant.
Not your average 17-year-old
Jenelle thinks she is much more mature than girls her age since she loves hanging out with adults and always tries to think before she acts.
"I am a lot more mature than the average 17-year old…," she said with a little laugh and when asked to expand she said that came with entering so many pageants and she has learnt "to accept things the way they are.
"I always think before I act or deliver a speech and I enjoy the company of adults, I am not into teen talk.
"I guess I am way ahead of life. I like the idea of having conversations with adult persons so I would be able to handle myself in certain situations."
And untypical teenager takes it even further; the former School of the Nations sixth former does not like parties and does nothing really for recreation.
Asked what she does for fun Jenelle said: "I like to sing and surf the internet but I do that [surf the net] rarely. I love to sleep… but I do nothing really for recreation…"
But she loves to watch Danielle Steele films, as she is all for "…a lot of love and happy ending," as she lives "a fairytale life."
Jenelle is starting her first year at the University of Guyana where she will pursue a degree in English with a minor in tourism. She said she loves English and she is very good at essays because "I can write and write."
She lives with her mom and little sister who turned ten years old on the day of the pageant.
(samantha_alleyne2000@yahoo.com)
Around the Web