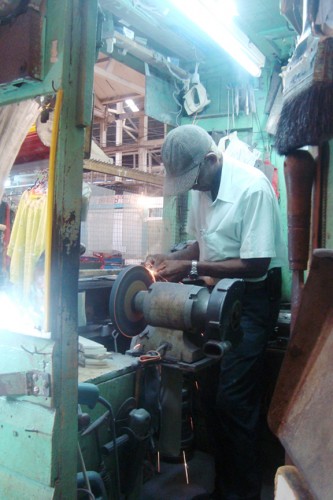 At a stall in Bourda Market, a well-dressed man with head bowed stands at a grinding stone, passing a knife's blade over it.  Outside, sits a young woman who is filing and smoothing the surface of a handle. On the outer wall of the stall hang saws, knives, screwdrivers and even a chopper. This place is Hector Headley's business.
Headley has made the sharpening of knives, scissors, saws and cutlasses his occupation for the past 21 years. After he resigned from his job, he decided to use his skill to sharpen implements, but had no idea that his business would become innovative. His only motivation at the time was to earn his daily bread.
"Whatever can be sharpened, I do it," he said, adding that when a customer brings an item to hone, he goes to great lengths to get it done.
When he started, there was no electricity in the market and all he had was a bench to sit on and a workbench for his grindstone. With a little help from neighbouring stallholders, however, he was able to solve his electricity problems.  These were the butchers, who were nonetheless a bit sceptical about his service. However, this quickly changed.  They have been his clients for many years, especially during the Christmas season when they are too busy to sharpen their knives themselves.
In order to get people interested, on the first day Headley offered his services free of cost.  He said about 25-30 persons showed up. The next day, an even greater number appeared.  However, when they turned up on the following day, he informed them that he could not offer his services free any longer.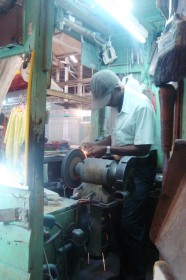 Nevertheless, he said that there has always been a good response to his service.  There have been periods where demand has dropped, but he stuck it out through those times. "I have been satisfied with response, there was no need for me to feel disappointed," he said.
His steady flow of customers, he believes, comes from the way he interacts with his them together with his quality of work. "We give you the edge," is the motto of his business. He said that he is always willing to go the extra mile to satisfy his customers.
Over the years, Headley noticed that when customers brought their knives to be sharpened, many of them were without handles. As a consequence the idea was born to replace handles as well.  "This was not my original intention; innovation is just part of the business," he said.
He only had to work out what medium he would use, since he wanted to find a material which would be durable. The idea of PVC piping came to him through a friend and he experimented with it.  After finding that it could be successfully cut, heated and flattened, it became part of the business. "I had no knowledge of that before. Simplicity is the best approach to life." His female assistant is the one who replaces the handles.
The sharpening of saws was also an area which was new to him.  But once he was requested to do it by a customer, he got it done, and now the sharpening of saws is "big business." Headley adds a personal touch to his work by engraving the customers' names on the blades of knives they bring him.
"As long as I can earn something, I am very satisfied with that," Headley said; "One good job will bring 4-5 customers, therefore the need to always do your best."  He said that an important ingredient in running a business is being respectful of customers.   Human dignity, he continued, is rare in society and something that we need to preserve.
Meanwhile, the art of sharpening has been taught to his five daughters.  He said that one had opened a stall in Stabroek Market which was operational for about four years before she became a missionary and it was closed: "I don't have to worry; there will be someone to carry on when I'm gone."

Comments
Since the festival of Christmas commands a pre-eminent position – of observance and celebration – on Guyana's Annual Calendar of National Events, I thought I'd pen a few lines to provoke thought and meditation relevant to the "Real Reason for the Season".

To mark the anniversary of Martin Carter's passing on December 13, 1997, Gemma Robinson looks at Carter's Poems of Succession, published 40 years ago this year.
By Naicelis Rozema-Elkins It is about time, past due in fact, that the problem of sexual assault by teachers in our school system is addressed.

Focus on Guyana's National Budget 2018 represents the twenty-eighth edition of this Ram & McRae annual publication which highlights, reviews and comments on the major issues surrounding and raised in the National Budget.

By Mark Leonard LONDON – Over the last few weeks, media around the world have been saturated with stories about how technology is destroying politics.