The Public Works Ministry yesterday ordered the removal of a 207-year-old structure at Victoria, East Coast Demerara, saying it is infringing on the government reserve.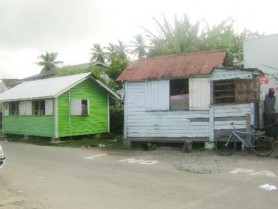 However, this decision has left some residents angry and betrayed since the structure is the only remaining landmark from the days of slavery. It is located to the east of the gas station, on Victoria Middle walk.
Speaking to Stabroek News yesterday, Gordon Gillis explained that the small structure was built in 1803 and served as a pay office and co-op bank for the slaves. He said that since slavery was abolished, the Gillis family has been responsible for the structure.
According to Gillis, the demolition of the structure would not only be a historical loss to him but a financial one, as he rents it out to a relative who sells various items from it. The man, who suffers from diabetes, is unable to walk on his own and the rent is his only means of income.
Gillis explained that he has always kept the structure in good condition. He recalled that over the years he has been paying rates and taxes but when he attempted to do so recently, he was told to wait. The visibly upset man questioned why the ministry would make such a move after promising that the building would not be touched. According to him, this promise was made last year when several other structures were being removed.
Asked if it were possible to move the structure to another location in the village, Gillis said he had nowhere to put it but if a spot could be allocated by the ministry that would help to resolve the situation. "It has been there for over 150 years. It is a historical landmark and we have maintained it," he stressed.
Meanwhile, Hilda Barnwell, who has been selling from the structure for the past 16 years, said she received the notice yesterday afternoon but was not told how much time she has to remove. The notice stated that it was found that the structure was infringing on the reserve and should be removed with immediate effect.
Barnwell told this newspaper that she has nowhere to go to ply her trade and is contemplating her next move. "I am a widow and this is my only place of income," the woman said.
The removal is part of the ministry's ongoing campaign to clear government reserves which have been encroached over the years particularly by small vendors and squatters. (Zoisa Fraser)
Around the Web