Some 39 nurses and 13 doctors resigned from the health sector last year and it is believed that there are over three hundred technical vacancies in the sector, according to Minister of Health Dr Leslie Ramsammy.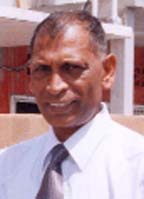 Dr Ramsammy was at the time responding in writing to questions asked in the National Assembly by Alliance For Change (AFC) parliamentarian Sheila Holder. Dr Ramsammy said while the health sector has completed a human resource requirement report, it is now being studied. He said that the plan was necessitated by the inappropriateness of the public service establishment.  "However, if we are to use the existing public service establishment, there are over 300 technical vacancies," he said.
The minister said that the 2010 health sector budget does not cater for the filling of the vacancies as this is done by the Ministry of Finance.
In his answers, Dr Ramsammy also disclosed that there is a health sector strategy which spans the years 2008-2009. He said that a mid-term review of the plan has shown that it is being implemented on a timely basis.
Asked about how his ministry will assist the Georgetown Public Hospital Corporation (GPHC) to conduct its financial affairs according to the law and avoid the "annual reprimand by the Auditor General," Ramsammy said his ministry has been in discussion with the Ministry of Finance to "determine the way forward in context of the Auditor General's annual remarks relating to this subject. 'The Minister of Health assures the House that he will continue to do all he could to ensure the Auditor General finds comfort in the mechanism of financing for GPHC," the minister said.
He added that the health care services have been growing each year and the supply of medicines and other supplies have increased significantly. He said that the 2010 budget is only likely to get the ministry through to December 2010. "We are likely again to request supplementary funds to obtain medicines to meet the demands between January and April 20101," he said.
Meanwhile, the minister announced that the 2010 clinical audit plan will be implemented with assistance from its international partners, PAHO/WHO, UNECEF, UNEPF and the Centre for Disease Control (CDC) in the US. He said that the clinical audit is one of the measures his ministry utilises to improve the quality of health care services in the country. He said that the Health Facilities Act 2008 provides the legal framework for the institutionalisation of clinical audit in the health sector in the public and private sector.
Around the Web