At 19, Anna Catherina's Satish Gobin has been diagnosed with chronic renal failure and his family is desperately trying to raise the money for his kidney transplant.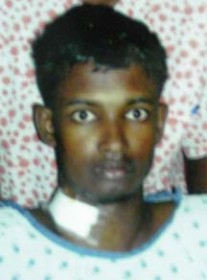 Shureen Ragbeer told Stabroek News Friday that she had to find thousands of dollars every week to keep her son alive. "He has to get dialysis treatment and injection but we can't afford it all the time," the woman said.
Gobin, she explained, needs a kidney transplant urgently and she is his donor. However, the family cannot afford the cost of the surgery which has been estimated at $7 million. Gobin is treated at the 5G Dialysis Centre and every dialysis treatment costs $36,050. He must also have two injections which cost $3,300 (Venofar) and $7,300 (Recormon). "I need help to keep my son alive and I am trying everything I can," Ragbeer said.
The woman can be contacted on 276-0953 or 678-6539. Persons interested in helping can also make deposits at Republic Bank account number 769-326-0 or Nova Scotia account number 10024051.
Around the Web