The German government under the Small Grants Scheme of the German Embassy funded the renovation of the buildings of the Joshua House Children's Centre.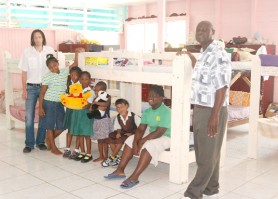 The children's centre located in Thomas Street, Cummingsburg was renovated to the tune of some $3.6 million. Work which have been done on the building include resurfacing and tiling of the floors, construction of an emergency entrance and stairway as well as the extension of bedroom capacity and washroom facilities.
The German Embassy is based in Port of Spain, Trinidad and Tobago and also represents the Federal Republic of Germany here in Guyana.
The main objective of the Small Grants Scheme is to improve the economic situation of underprivileged population groups who require relatively small amounts of financial aid in "self help" projects.
Around the Web