One year after it began the process the Guyana Agricultural and General Workers Union (GAWU) yesterday signed an agreement with the National Park Commission (NPC), which will see GAWU representing about 100 workers.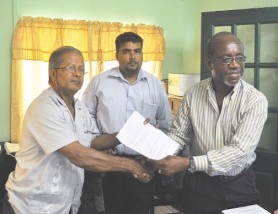 The agreement, signed at the National Park, has 29 articles and is described as a "substantial agreement".
It covers many benefits including hiring and employment, hours of work, promotion, premium payments for overtime, Sundays and public holidays; allowances and leave arrangements among others.
In his comments, President of GAWU Komal Chand said there were considerable difficulties during the negotiations for the agreement as much time "had to be spent to convince at least two directors of the National Parks on simple, non controversial issues." He said at times the union was led to believe that the commission "was doing everything possible to frustrate or to avoid the making of the agreement.
However, he said even though the process "was tedious, one can say that the benefits have compensated."
He said he hoped the signing of the agreement would serve to strengthen the working relationship between the management and the union as there is need for them to move on with their business in the interest of promoting goodwill between the NPC and employees.
He said the union's "battle" for representational rights on behalf of the NPC workers dates back to the union's first application on May 7, 1996 and after years of "struggle" it was finally recognised last year January.
Around the Web