In the light of the discovery of several pieces of asbestos-bearing material at the side of a canal leading to Shelter Belt, Guyana Water Incorporated (GWI) has advised that its water production passes through a complex treatment process that would prevent such material reaching consumers were it to leach into the canal.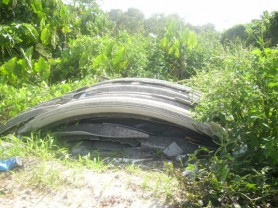 Benjamin Brock, a UK-based Guyanese told this newspaper yesterday that he had observed the pieces of material stacked on each other several weeks ago as he travelled along Sheriff Street, aback the Botanical Gardens. He said initially he thought the material "was usual waste" but he further investigated and discovered that the pieces of material, which he believes are roofing parts, contained asbestos.
He said given his background and knowledge of asbestos, he broke off a piece of the material and made several checks with other "knowledgeable persons", who confirmed his suspicions.
On Brock's directions, Stabroek News visited the area on Sheriff Street, aback the gardens, and saw the pieces of material stacked at the corner of the road, a short distance away from the canal. A resident in the area told this newspaper that persons have been in the habit of dumping refuse in the area over the past several months.
She said she could not recall seeing anyone dumping the asbestos material there but according to her, it may have been dumped there within the past three weeks since it was around that time that a resident in the area "burnt all the garbage which was there".
It was evident yesterday that garbage in the vicinity had been burnt.
GWI's Public Relations Officer Timothy Austin told Stabroek News last evening that the company would investigate the presence of the material close to the canal, even though responsibility for the canal rests with the East Demerara Water Conservancy.
He assured consumers that GWI's water purification process is complex and if the material was present in the water produced at Shelter Belt, its presence would have been picked up.
Nevertheless, Austin said, GWI, along with the other relevant agencies will visit the area today to analyze the situation.
Around the Web