– cops seeking four others
One man was arrested and police are hunting for four others who last travelled in the car that was set on fire while the owner was locked in the trunk, at Palmyra, Canje on Friday night.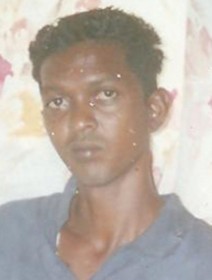 The discovery of the body of Angoy's Avenue, New Amsterdam resident, Roy Mitchell Persaud, 32, called Otis, which was reportedly burnt beyond recognition, was made on Sunday morning.
A close acquaintance of Persaud who worked as a part-time taxi driver told Stabroek News that around 11 pm they were standing at the head of Pitt Street, New Amsterdam when two passengers approached Persaud and said they wanted to go to Canje.
The two passengers were still standing near the white Toyota Corolla motorcar, PEE 9632 when three other men approached and requested to be taken to Canje as well.
He said Persaud left with the 'passengers' – who he knew – and promised to return later to join him. The friend said he did not wait on him but went about his business instead.
According to the man, Persaud was supposed to pick him up around 8 am the next day to take him to fix his fence. When Persaud did not show up he kept calling his cellular phone but the calls went to voice mail.
Around midday he decided to go to the man's house on his own but was greeted by a padlock on the gate. He then went to the home of Persaud's mother at Smythfield, New Amsterdam to find out if she had seen him.
Persaud's mother said her grandchildren related to her that their father had not gone home that night.
He immediately left and together with other persons started searching for him. They searched all Saturday afternoon.
They continued the search the following morning and were at the Central Police Station, New Amsterdam when the police received an anonymous call that a burnt-out car was seen near the canefield.
Upon checking, police discovered the burnt body in the trunk of the car.
The friend said residents have been dumping garbage in the area where the car was found.
And late that night when persons passed and saw the flames they thought garbage was being burnt.
While relatives are sure that the remains are that of Persaud a police source had told Stabroek News that a DNA test would have to be done to confirm that the body is his. They would also have to confirm with the Guyana Revenue Authority Licence Office that the car belonged to him.
Yesterday, his mother, a grieving Shira Tahal told this newspaper that Persaud's 13-year-old son and 11-year-old daughter went early the next morning to see if their father was at her house.
She then sent them to the police station to see if his car was there – in case he had met in an accident.
She last saw her son on Friday when he went to her house for lunch.
His children also went later to pick up dinner and take it home.
The woman is still baffled as to why persons would want to kill her son and destroy his body like that. She described him as a good person and said he never got into trouble with anyone.
She figured that the persons must have tried to rob him and he probably resisted and fought back. She also opined that "they must be kill him because he know them… I don't know what play out but ah never hear back from me son," the woman said.
Sunday morning she went to a television station to place a missing person's notice and then to the police station to make a report when she learned that a burnt car with a body was found.
She said she started to "scream and ah tell them ah don't want to hear more… ah sent me relatives to see.
She suspected that it was her only son who was killed. She also has a daughter, Simone Persaud, 33 who resides in Trinidad.
Persaud worked with the Oldendorff Bauxite Com-pany and after he got laid off last year he went with his wife to Trinidad to work.
He returned within six months after his contract expired.
Police investigations are continuing.
Around the Web