Chinese Ambassador Zhang Jungao on Tuesday night held a reception at the Chinese Embassy on Mandela Avenue to welcome the ninth Chinese medical team and bid farewell to the eight batch.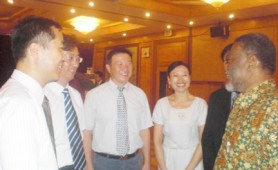 In brief remarks to the gathering, the ambassador expressed his gratitude to the government of Guyana, especially the Ministry of Health, the Georgetown Public Hospital and the Linden Medical Complex. "Your valuable support and collaboration have been vital to the life and work of the Chinese doctors," the ambassador said.
While bidding goodbye to one team and welcoming another, he said, "The doctors will continue the glory in humanitarian spirit of healing the wounded and rescuing the dying, and make more contributions to the local community." Jungoa stated that while Guyana and China are far apart both countries share the common aspiration for development and cooperation has deepened over the years.
It was 17 years ago, the ambassador said, in 1993 that the Chinese government sent its first medical team here, making Guyana the only country to receive Chinese doctors in the South American continent.
Over 100 Chinese doctors in eight batches of 15 have visited since, with each making its own contribution to the local community, the ambassador noted.
The eight medical team which will be leaving Guyana this weekend has spent two years in Guyana and has received nearly 80,000 persons, treated 22,266 in-patients and was involved in 2,500 consultations. The team, the ambassador said, had performed 10,015 operations or surgeries and also responded to 5,000 emergency calls, and in their spare time they provided community outreach. The Chinese team has since obtained $32M in equipment and medicine from its sponsoring provincial government for the GPHC and Linden Medical Complex, Jungao added.
Commenting on the many firsts that the team has brought to Guyana, the ambassador also highlighted the centre for laparoscopic surgery at the GPHC which he said marks the "new achievement of our medical cooperation."
And Prime Minister Sam Hinds in response said that, "The assistance of the Chinese has no doubt contributed significantly to Guyana's efforts to achieve the millennium development goal in the critical health care."
Meanwhile, the incoming ninth batch of Chinese doctors is headed by Dr Zhao Wenxing, a general surgeon, who will have a team of 14 doctors and one chef. Four doctors will be posted at the Linden Medical Complex while the remaining 10 will be at the Georgetown Public Hospital.
The team includes two general surgeons, an orthopaedic, a radiologist, a pathologist, a bone and plastic surgeon, a cardiovascular surgeon, two gynaecologists, an ophthalmologist, two anaesthesiologists, a paediatrician and an acupuncturist.
Dr Wenxing said that he hoped his team's two years here will further enhance the friendship between the two countries. He added that his team will do their best to dedicate themselves to the care of Guyanese.
Around the Web