The 'Plastic City', West Coast Demerara carpenter who was battered by robbers early Sunday morning and later succumbed in the hospital died of congestive heart failure due to a diabetic condition, an autopsy found yesterday.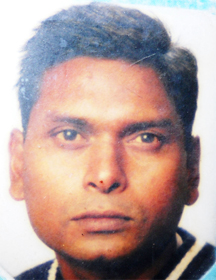 Krishna Shiwram called 'Dennis', 44, of Best Village, West Coast Demerara was severely beaten when two men waylaid and robbed him early Sunday morning. He died in the West Demerara Regional Hospital (WDRH) on Tuesday.
An autopsy was done yesterday and it revealed that his heart failed after his blood sugar rose to a dangerous level.
The autopsy also revealed that he suffered injuries to his head but this did not contribute to his death.
Recalling how his father ended up in the hospital, Shiwram's son Alfredo told Stabroek News yesterday that his father, a carpenter, who was doing work in the city was returning home at about 1:30 am on Sunday when two men waylaid him and attacked and robbed him, not far from him home.
He said the robbers took away his father's watch, money and cellular phone.
Alfredo said that his father was badly beaten, the robbers slamming his head against the ground, stomping on him and holding his head in a pool of muddy water.
Another relative said that a badly wounded Shiwram managed to get home by himself, falling and getting up.
Alfredo said his father initially did not want to be taken to the hospital and was finally taken to the WDRH by his brother after the pains got worse on Monday.
By that time, Alfredo said, his father could not eat and was having difficulties breathing while his stomach had begun to swell. Shiwram died at about 3 am on Tuesday. He had managed to tell relatives what had happened.
Relatives were not happy with the treatment he received at the hospital saying that all he was given was saline and oxygen. "They ain't make an effort to do nothing…x-ray or anything", Alfredo said.
Shiwram was a carpenter for about 22 years and is survived by his wife, Melinda Williams, three children and other relatives.
Around the Web