Minister of Housing and Water Irfaan Ali along with officials from the Region Five RDC and GuySuCo's Blairmont Estate on Tuesday discussed plans to regularise and relocate residents of the Blathylock squatter settlement.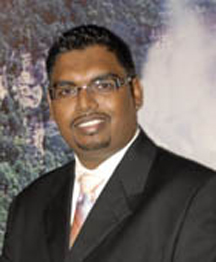 According to a Govern-ment Information Agency (GINA) press release residents had met with Region Five Chairman Harrinarine Baldeo earlier last month to discuss a number of issues including the lack of regularised house lots and electricity. The chairman had pledged to have the issues resolved through the intervention of the Ministry of Housing and Water and GuySuCo.
On Tuesday, Ali told the meeting that regularising an area is a fixed process. He noted that while the Central Housing and Planning Authority (CH&PA) already has a file on the area, the process would've encountered some challenges, the most glaring of which would be the land owned and earmarked by GuySuCo for development.
Blairmont Estate Manager Yudhisthira Mana believes that the plot of land currently occupied by residents is intrinsic to his company's development plan for the Estate. Mana noted that GuySuCo is moving towards a cultivation capacity of 7200 hectares and it will become necessary to use the area currently occupied to satisfy future drainage requirements.
Ali said that there needs to be an occupational survey and a further determination of the infrastructural capacity of the area before a decision is made to regularise. The minister was adamant that any decisions being made must be made together, GINA said. He also gave residents the option of relocating to Zorg-en-Hoop or Bath Phase II housing schemes in Region Five and more than six families indicated an interest. He also mandated an occupational survey to de done on Monday by officials from the CH&PA to facilitate this process.
Around the Web