Some South Ruimveldt vendors located at the corner of Aubrey Barker Road and Manatee Place yesterday complied with a request by the Public Works Ministry and voluntarily removed from the government reserves.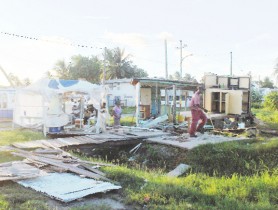 The vendors, who were located on the north eastern side of the junction, were asked to remove earlier this year as Public Works Minister Robeson Benn leads a team from his ministry in a mission to clear government reserves of all illegal structures.
Yesterday, two of the vendors hired persons to dismantle the structures at the location where they have been doing their business for years. One of the affected vendors is Alexis Gravesande who has been vending on the spot for the last 28 years. According to her, about two months ago Deputy Mayor of George-town Robert Williams met with them and advised them that they would have to move. She said that last week Monday, Benn visited them and told them that they had a week to move.  When the minister visited them again on Tuesday, they were given up to today to relocate.
Gravesande has managed to secure a spot in "the market" opposite the area where she used to sell.   According to her, she had always maintained that she had no problem moving but that she needed to have access to a place close to her current location. The woman operates a snacks stall.
Meanwhile another vendor, who requested anonymity, said that it was "heart-rending to move" from her business spot of the last eighteen years.  The woman said she will now operate her food stall at her home, which is located in South Ruimveldt.
The woman said that when she was given the notice to move, she was told that a police outpost and a community centre will be built on the vacated land.
Around the Web