Farmers in Region Five have called for more drains to be cleared so as to avoid flooding during the rainy season and the Mahaica-Mahaicony-Abary/Agricultural Development-Authority (MMA/ADA) assured that it has made preparations.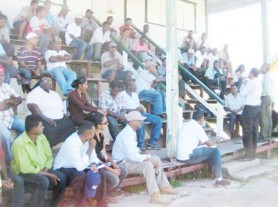 At a meeting with Minister of Agriculture Robert Persaud in Region Five last week, farmers said the "main canal" was still blocked. General Manager Aubrey Charles, in response, explained that the MMA supplied fuel to the owner of an excavator to clear the area and he later said that he did. However, after an inspection it was found that no work was done and he promised that steps would be taken to have it cleared soon.
The farmers were also concerned that the façade drain was "shallow" but according to Charles it was rehabilitated three years ago from Profitt to D' Edward Village. He also said that a section of the façade, a distance of just under one mile from Profitt to Foulis, is currently being rehabilitated.
In an interview with Stabroek News, Charles said "during the past two months emphasis was on preparing the drainage system for the May/June rain. … Unlike other areas the farmers are safe as it relates to proper drainage." He also said the sluice at Profitt is now being fully utilized. Before that, "a breach on the sea dam had caused a lot of silt to be deposited in the drain and restricted flow to the sluice. Now that the channel has been rehabilitated MMA has maximized the flow to the sluice and having the façade drain working effectively."
According to him, works on the primary drainage channels which discharge water into the façade drain were completed just before the commencement of the rainy season.
In the Abary/Mahaicony area, MMA has also removed the "stop-off" across the main drainage channel at Burma that takes water from the backlands into the Belamy drain. This has resulted in the flow of water in the Belamy drain to be maximized. The stop-off, Charles said, had been placed there during the dry season to allow a build-up of water in the irrigation system.
Several sideline drains in the Mahaica/Mahaicony area that take water from the Industry canal to the Belamy drain have also been rehabilitated.
Meanwhile, farmers told the minister that they are still having trouble getting payment for their paddy from millers especially the Mahai-cony Rice Mill (MRM). The minister responded that government intends to "go after" the MRM. He said the millers entered a voluntary agreement and they have to honour that.
He told the farmers that they are not being paid because of the "slackness" of the millers "who take the rice farmers for granted." He said too that, "I am sending a message to the millers that they would not let the industry suffer."
Around the Web