Yohan Jackman of Lot 101 Crown Street, Queenstown, was granted bail yesterday when he appeared at the Georgetown Magistrate's Court for being involved in the accident on Tuesday morning which caused the death of a 79-year-old woman.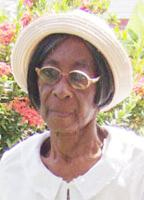 Acting chief magistrate Melissa Robertson read the summary charge of causing death by dangerous driving to the Federal Management employee while he stood silently in the courtroom.
The charge alleges that on July 13, at the corner of Quamina and Main streets, he operated a motor vehicle in a dangerous manner which resulted in an accident that caused the death of Yevonne Monthouth, of Lot 382 Dove Square, South Ruimveldt.
Jackman's lawyer Patrice Henry had applied for reasonable bail for him stating that the incident was an unfortunate one and that prior to this matter his client has an unblemished record in the courts.
He said that his client is the son of a local pastor and is a respectable member of his community.
Meanwhile, Prosecutor Alexis David-Hossanah made no objections to the bail application but stated that it should be set at a substantial amount.
She noted that Jackman currently has an American passport and that it should be lodged at the Criminal Investigation Department, Eve Leary.
The magistrate then placed Jackman on bail in the sum of $400,000 and ordered that he return to court on September 17.
Reports are that Monthouth was on her way to the Cheddi Jagan Dental School and was struck down while attempting to cross Quamina and Main streets.
Today would have been her eightieth birthday.
Around the Web