Bandits have reportedly made off with more than $3.6 million worth of cell phones and other electronic gadgets from the Rite Price Wireless store on Regent Street.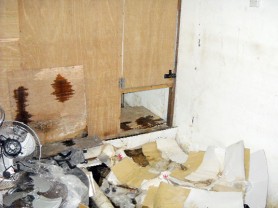 Manager Surujballi Singh told Stabroek News that they only learnt something was amiss when they opened the store yesterday morning.
"About 8.20 this morning when we opened the store we discover the showcase break, all the phones gone, the MP players too.
We make a rough estimate over $3.6 million," Singh said.
The criminals had also ransacked the drawers in the office and made off with several items though no cash was on the premises.
Singh said none of the items, which also included digital cameras and sunglasses, were insured. He showed Stabroek News where the bandits entered the store by pushing a piece of board from a wall shared with the building next door where construction is underway. According to Singh, work had been going on at the site until around 10 pm Sunday. A crowbar, which was identified as being from the construction site, was found on a display case in the store.
Stabroek News was able to enter the adjacent building which had also housed another store. Once there, Singh and the owner of the building, Kathim Ramlakhan, retraced the steps it was assumed the bandits had used.
"In my opinion I think they come in from King Street and they walk at the back probably by Mr Pressy (of Pressy's Enterprise) there, got onto his roof and then climb the scaffold and into the building here and get downstairs and then go into Rite Price," Ramlakhan said.
He noted that the building which is under construction had not been secured allowing the perpetrators free access to do their deed.
When Stabroek News arrived at the scene around 11 am the manager said the police had already visited and taken statements but had not dusted for fingerprints since a specialist had to be located to do that task.
When this newspaper contacted Singh again later in the day the man said the specialist had not arrived up to 5.30 pm when they closed up the store.
Around the Web