The charred body of an elderly woman was pulled from the ruins of her Debuff, Canal Number Two, West Bank Demerara home after it was gutted by a mysterious fire early yesterday morning.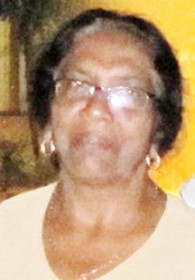 Dead is Bibi Saqkhena Latif, 62, of Lot 22 DeBuff. Fire Service officials are investigating the cause of the blaze and some relatives and neighbours have asked questions about how the fire, which was first observed at around 1:50 am, started.
Neighbour, Vishnu Mohabir said that he was awakened by smoke and at first thought it was his home but after checking, saw nothing. It was when he looked over at Latif's home that he saw the smoke emanating from the bottom flat-of the two storey house. He said that there was an explosion then and flames were seen. He recalled that he ran outside raising an alarm. It was impossible to get close to the home because of the intense heat, he said.
Other residents assisted in saving the homes on either side of the burning building. "Everybody left surprise this fire (got) high so quick", he said. A section of Mohabir's home was scorched and items were damaged and water-logged.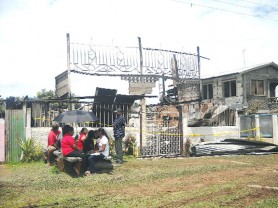 Latif's home was grilled and they heard no sound, he said. The woman lived alone but sometimes her children came to stay with her. "The fire so big nobody coulda get in", said one resident.
Mohabir said that the Fire Service took a long time to arrive and when it reached, the building was fully consumed. In addition, the pump that was brought was unable to start for about half an hour, he said. In the meantime, residents used buckets to fight the fire and save the other buildings. Latif operated a small shop in the lower flat of her home, selling alcoholic beverages and other items. The building burnt out in about half an hour, residents said.
Meantime, Latif's daughter, Saudia Sinclair, told Stabroek News that she had last spoken to her mother on Monday night and they spoke about a wedding they were supposed to go to. She said that her mother's body was discovered lying facedown on a small bed in the living room, which they used as a couch.
Sinclair said that it was not like her mother to lie facedown since she had heart surgery recently. "It doesn't look like a normal fire", she said. Residents had said that there was no power outage that night and Sinclair said that her mother was very particular about her electrical appliances. It was only last week that the house was re-wired.
Meanwhile, another neighbour, Ramroop Mahadeo recalled hearing a resident shouting about the fire shortly before 2 am yesterday. He said that he called for Latif. "The smoke was plenty, plenty", he recalled. He got no response to his calls and said that the fire started at the bottom flat of the building.
By the time, the fire-fighters came, the house was already burnt, he said. He opined that the smoke had stifled Latif or she was "attacked". He said that she normally closed her shop between 7:30 pm and 8 pm. Mahadeo's windows were shattered by the heat.
Latif's son, Shahara-zudeen Osman, who lives in a house close to his mother, said that his mother lived alone for the past year and a half. He estimated that losses could be about $10M. He said the house was well furnished and it was only last week that the house was rewired while the roof was replaced recently.
Osman said that he called the fire service and it arrived about 20 to 25 minutes afterwards.
Latif's niece, Bibi Seeraj, told this newspaper that she and Latif were very close and the woman was experiencing problems with a nearby resident.
She said that the problem stemmed from the rearing of chickens and Latif got sick and then told them about it. According to Seeraj, that was when the problems began and this grew to include a dispute about land. Seeraj alleged that the resident threatened her aunt about three weeks ago, saying a number of things. She said that the police were contacted but told them that it was a "private matter". She said that since the dispute began, it was quarrels almost "every day" with the last one being last Friday. Seeraj said that Latif was an active woman for her age. "We just hope that whatever it is, comes out", she said.
In the community yesterday, persons visited the gutted building and talked about what happened. Fire Service officials were on the scene doing their investigations.
Latif was the mother of three. She was friendly and always looked out for others, Sinclair said.
Around the Web