-complainant breaks off ties in front of magistrate
A man who pleaded guilty to using threatening language against his girlfriend was yesterday fined $10,000 and the woman who said she feared for her life declared an end to the relationship with the accused in front of Chief Magistrate (ag), Melissa Roberston.
Twenty-six-year-old Eric Hassan of 115 South Turkeyen pleaded guilty to the charge of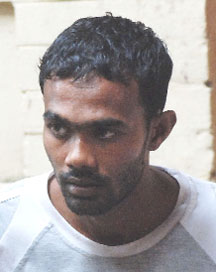 threatening language towards Zelina Mohamed when it was read to him by the Acting Chief Magistrate at the Georgetown court.
Hassan told the court that on July 20 at Croal Street, Georgetown, he did indeed threaten to kill his girlfriend but said that he only said what he said out of anger.
"Meh worship, I only tell she dat I gun kill she cause I was angry at the said time. But I din mean it," said the defendant.
Hassan explained to the court that on the day in question, he met the virtual complainant on Croal Street while she was talking on her cell phone. The Court then heard that he asked her who it was that she was speaking to and then told her that they should make their way home. After refusing to tell him who she had been speaking to on the phone and refusing to go home with him, he grabbed her cell phone out of her hand and told her that he would kill her for "having another man as well as if she decided to make a report of the threat to the police."
When given a chance to respond, the soft-spoken Mohamed told the court that it was not the first time that Hassan has threatened to kill her. She added also that the defendant told her that he will "kill the other man she has, kill her and then kill himself."
She said that she was very afraid for her life and as a result decided to end her relationship with the man before the Acting Chief Magistrate. The woman told the court that she is not involved with anyone else and does not understand why Hassan keeps accusing her of infidelity.
"My worship I am afraid and I want to end the relationship now in front of you," said the virtual complainant.
The Police Prosecutor made an application for the man to be remanded to prison owing to the serious nature of the threat, adding that "we need to take such threats seriously, so much so since violence against women is on the increase."
However, the prosecutor's request was denied and the defendant was fined $10,000 or six months imprisonment.
Around the Web