Neville Williams, 37, of Charity, Essequibo, who is responsible for a string of break-ins at the Charity Marketing Centre, Essequibo, was yesterday sentenced to eight years imprisonment after admitting to the crimes.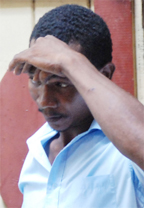 Acting Chief Magistrate Melissa Robertson read five counts of break and enter and larceny to Williams and he had pleaded guilty to all at the Georgetown Magistrates' Court. "I sorry foh wah I do and I know ah wrong but dey jus dey keep blaming me foh things that I didn't do so I do it," Williams, a pork-knocker, said after giving the guilty plea. Williams, who had entered the court limping, told the magistrate "de police them shoot me even after I throw away me knife and dey lying down on de road."
He said that the police had instructed him to do so when they caught him but that he didn't expect them to shoot him when he wasn't running away at the time.
Williams admitted that on July 6, at the Charity Marketing Centre, at Charity, Essequibo, he broke and entered the store of Shawn Persaud and stole an engine head, a motor pump, a pair of boots and a quantity of food items, valued in total at $121,480. He also admitted that on July 9, he again broke into the store of Ron Thomas and stole a quantity of drinks, toiletries and several other items, valued in total at $37,640. He also confessed to breaking and entering the Alfro Alphonso Store between July 10 and July 12 and again between July 20 and July 21. He admitted stealing a quantity of land line and cell phone cards, two C-Point machine and a quantity of cash, valued over $318,000, from the store. Williams also confessed to breaking and entering the store of Roopram Kumal and stealing twenty-one cell phones, valued at $515,000 in total. To this charge Williams stated "I didn't steal all of them but I taking de blame 'cause I went in and thief only $5,000 from he store."
Williams, who recently escaped from the Mazaruni Prison while serving a three year sentence after conviction on a similar charge, blamed his escape on the brutal treatment he allegedly suffered at the hands of the officers there. "I run away 'cause I tell them that I ain't like what they do to another prisoner in front me and wah they do to me after."
He said that an officer had slammed a radio-set into another prisoner's head and when he objected to the treatment of his fellow inmate, "they put me head next to a wall and slam a steel door into meh head….I think about it for a lil while then ah decide foh run away." He said that working in the farm not far from the prison afforded him the opportunity to escape when no one was looking.
Prosecutor Stephen Telford requested that the maximum penalty be imposed on Williams since it was while serving a prison sentence for a similar crime that he escaped from prison and committed the string of break-ins. He also noted that none of the stolen items were recovered. When the magistrate asked Williams where he hid the stolen items, to which he replied, "All them thing left in Essequibo in a rice field weh I use to rest….somebody gon' inherit them."
Around the Web