Murdered teenager Neesa Lalita Gopaul was yesterday laid to rest just after a post-mortem examination (PME) revealed that she had not been decapitated as previously thought.
Mohammed Kayoum, who witnessed the PME, told Stabroek News that his 16-year-old granddaughter's head had been so severely bashed in that it was no longer visible or recognizable.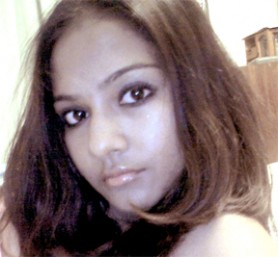 In tears, at the Leonora Muslim cemetery on the West Coast Demerara yesterday, Kayoum said that as the autopsy was being performed it was clear to those in attendance that Gopaul's head was still attached to her body as parts of it began to be revealed. He said it was unthinkable that a human being could have carried out such a gruesome act; clobbering his grandchild's head to the point where it was flattened beyond recognition. It was clear, he said, that Gopaul's killers had "no mercy".
He dispelled rumours which were circulating yesterday that the teen's head had been discovered at a garbage heap in the West Demerara area. "Dem people beat meh granddaughter bad," he said, "like they use a heavy object to smash in the head."
Kayoum said other parts of his granddaughter's body were also badly damaged including her hands, chest and torso and according to him it remained unclear whether she was killed elsewhere and her body dumped on the Linden/Soesdyke highway.
The police had reported shortly after the discovery at a creek near the Emerald Tower resort last Saturday that the body of the former Queen's College student, which was inside a suitcase and anchored by several pieces of metal including two dumbbells, was headless.
Meanwhile, the funeral service, which was held according to Muslim rites, began around 4 pm yesterday some three hours after it was scheduled as the PME was still in process when numerous relatives, friends and colleagues of the former QC student gathered at her grandparents' home at Anna Catherina, WCD around 1pm.
As the vehicle bearing Gopaul's body arrived, the crowd on hand converged around the sealed coffin and emotions ran high while students of Queen's College sang the school song. The Central Islamic Organization of Guyana (CIOG) vehicle which carried the coffin stopped briefly in front of Gopaul's grandparents' home, following which the body was taken to the Leonora cemetery for burial. Janazaa (Muslim prayers) was performed at that point after which the coffin was placed in the earth as a huge crowd gathered along the road to get a glimpse of the proceedings.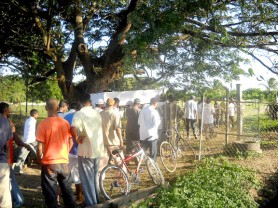 Several relatives told Stabroek News at that point that all systems failed the teenager and that her school, the police and the Human Services Ministry should take full responsibility for her death. A woman, who took care of Gopaul when she was a child, stated that she had always been independent and would stand up for her rights, "since she started to walk". With tears streaming down her face, the woman said that the death of Gopaul's father was the turning point in her life.
Head Teacher of Queen's College, Friedel Isaacs as well as other senior teachers of the school were present throughout yesterday's proceedings and offered comforting words to the young woman's relatives, including her grandmother, who has a heart condition.
Relatives were adamant too that the third person held initially by the police, played a part in the teen's death, with some saying that the woman – Gopaul's stepfather's wife – made numerous attempts to turn Gopaul against her immediate family. They expressed disappointment that the woman was released from police custody on Tuesday.
Relatives of Gopaul said yesterday that the teen had related prior to her death that the woman in question was "controlling" her, and she had displayed several text messages.
Stabroek News was shown several text messages which were also shown to the police by Gopaul's grandfather. The messages were registered as sent messages. The teen had stolen the phone from her grandfather around September 9.
In one of the messages Gopaul had apparently written: "he needs to be careful, cuz da police trying to prove him dangerous". That, along with four other messages, was sent to a mobile number which belongs to her stepfather's legally wedded wife.
At 6:05 am on September 21, three days before Gopaul reportedly disappeared, another message stated, "If u got n e drugs in da house u need 2 get rid of it n deres a bottle of morphine here with ur fingerprints… if u want it lemme no… and stop tryin to scare the …out of us".
Another message, which was sent 42 minutes later on that same day, read: "I fed up tryin 2 save u, I goin n give my statement dis afternoon on ur morphine… n dose calls u made last nite goin b bad 4 u on mommy's part so laterz".
Late yesterday afternoon Gopaul's grandfather was in the company of the police as further investigations into the young woman's death continued.
Meanwhile, the 72 hours allowed by law during which the suspects could be detained by police for questioning elapsed earlier this week. Police applied to the High Court and were given permission to keep the suspects in custody until Saturday.
Gopaul's body was discovered in the suitcase anchored in the creek by a woman and her friends. The group had gone to the area on Saturday for a picnic when they made the horrific discovery.
The woman had told Stabroek News that a large piece of metal was removed from the creek by police some time during Sunday. However, investigators soon returned to the location and discovered several dumbbells which were also used to anchor the suitcase to the bottom of the creek.
This was confirmed by Crime Chief Seelall Persaud yesterday afternoon. These weights have since been linked to Gopaul's stepfather.
Around the Web