Caricom's Secretary-General Edwin Carrington was awarded Antigua's highest honour yesterday, as he approaches his retirement from the regional body.
Antigua's Prime Minister, Baldwin Spencer honoured Carrington with the award of Knight Commander of the Most Distinguished Order of the Nation (KCN), saying that the regional statesman has been a cornerstone of Caribbean regional integration for more than twenty years.
Spencer praised Carrington's "consistent and tireless efforts" to build a strong and effective Community for the people of the Caribbean region and for generations to come, a statement from the Caricom Secretariat said yesterday.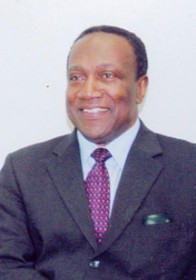 Spencer  also pointed to many of Carrington's achievements during his tenure, recalling the revision of the Treaty of Chaguaramas; the establishment of the Caricom Single Market; the inauguration of the Caribbean Court of Justice, and the creation of the Pan Caribbean Partnership Against HIV/AIDS.
"You have been an advocate and friend working tirelessly in the interest of the development of our country and our region. We have been fortunate beneficiaries of your training and experience in diplomacy and economic development," Spencer  was quoted as saying. The Prime Minister also mentioned Carrington's role in advising him following his election to office.
Baldwin continued in his praise, saying, "It is in recognition of your outstanding and far-reaching contribution to the diplomatic efforts of our country and to its economic development, as well as for your distinguished service to our Caribbean Community, that the Government and people Antigua and Barbuda are pleased to bestow on you today…"
In his remarks, Carrington said the award was a "humbling experience" and he gave thanks to Spencer, the government and the people of Antigua and Barbuda.
He noted that Antigua and Barbuda has been central to his service to the region from the beginning and he recalled that his first mission as Secretary General of Caricom sent him to the state. He added that on that occasion he received "wise and stern advice" from then Prime Minister Sir Vere Cornwall Bird "on relevance, focus and hard work," which served to guide him throughout his career. He said he remained committed and available to lending such assistance as he may be capable of to their worthy causes of those who supported him.
He thanked his staff for their contributions to his achievements and also cited his wife Patricia and other members of his family for their tremendous sacrifice during his year's of service to the region. "Throughout it all, they have been an indefatigable pillar of support," he said. "It is in that spirit of contribution by many to that success that I am also particularly touched that my dear wife Patricia could join me today, to receive this accolade and to share in the joy of this moment," he added.
Around the Web