The life of a Brazilian miner was yesterday afternoon snuffed out following yet another boating accident in the Essequibo River.
Dead is 48-year-old Rodrigues Dantes, who apparently drowned after the boat he was travelling in capsized. The accident occurred around 4:35 pm yesterday minutes after the Bartica-bound passenger boat All For Jesus left the Parika Stelling.  The vessel, which was captained by Safraz Hack, was carrying 24 passengers — 21 adults and 3 children — when it collided with a set of piles off the bank of the Essequibo River in the vicinity of Lookout, Parika.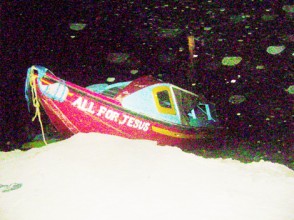 The piles, Stabroek News was told, are about six inches above the water line, but are difficult to see when the tide is high. It was high tide when the boat began its journey around 4:30 pm.
According to reports, Hack said he saw the piles and tried to swerve from them but the boat capsized.  After the boat capsized, other boat operators rushed to the aid of the passengers and tried to rescue everyone on board. However, when the boat was brought up, Dantes' lifeless body was found trapped in its stern.
The badly damaged boat was pulled to the shore close to the A Alli & Sons Sawmill and Lumber Dealer, located at Track D, Lookout, Parika.
The rescued passengers, this newspaper was told, were then transported to Bartica by other vessels.  The boat operator was taken into police custody.
Meanwhile, other boat operators plying the Parika/Bartica route said that the particular set of piles presented significant danger when the tide was high.  This newspaper was told that about four months ago, there was another accident at the site, but there were no casualties then.
They recommended that a large floating device be set up by the piles to warn boat operators.
Yesterday's boating accident was the fourth in as many days. On Friday evening, 28-year-old Vidyanand Singh fell overboard and subsequently drowned as a result of a boat collision that occurred just off Hog Island.
His body was pulled from the river on Saturday morning. Meanwhile, 13-year-old Jason Abrams is feared dead after he fell overboard into the Pomeroon River following a boat collision on Sunday afternoon and miner Carl Murray drowned after he fell off a boat yesterday.
Around the Web