A taxi driver died on Monday night after he collided with a minibus along the Grove Public Road, East Bank Demerara (EBD).
Dead is Clement Seabra, also known as 'Scrawly,' 57, of Lot 33, Friendship Public Road, EBD. He was a father of four and a popular taxi driver who operated outside the Georgetown Public Hospital (GPH).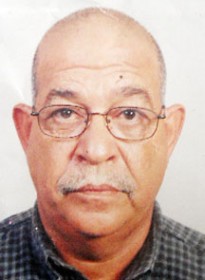 Police, in a statement, said that the accident occurred around 11:05pm, as Seabra was driving his motor car, bearing registration plate HB 7851, in a southerly direction along the roadway. According to police, he allegedly strayed over into the other lane and collided with a mini-bus, bearing registration plate BHH 8230, which was proceeding in the opposite direction. Seabra was pronounced dead on arrival at the Diamond Diagnostic Centre.
The man's son, Shawn, told this newspaper that his father was proceeding home along the roadway when he "ended up in the other lane." He said that his father collided head-on with the minibus, which was heading north along the public road.
The grieving man stated that his father was picked up and rushed to the Diamond Hospital but he noted that based on reports, his father may have died on the spot. He said that the man sustained mainly head injuries while other reports suggest that he also sustained injuries to his torso.
Seabra's colleagues who work outside the GPH expressed shock at his passing, and one of his friends noted that he always kept the area "buzzing." He said that the man was always willing to "give up a customer" to ensure that other taxi drivers made an income whenever he worked. The man's friends stated that he was consuming alcohol earlier in the evening and that may have contributed to the accident.
The driver of the mini-bus is in police custody assisting with the investigation.
Around the Web