President Bharrat Jagdeo spent the early part of Christmas day distributing toys to youths in the pediatric care unit of the Georgetown Public Hospital, the Government Information Agency reported.
The President was joined by West Indies star batsmen Shivnarine Chanderpaul, Ramnaresh Sawran and captain of the Guyana National Cricket team Lennox Cush.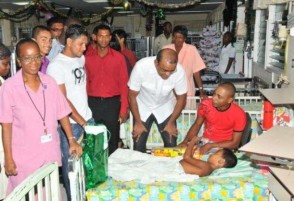 GINA said the presentation of toys and the presence of the prominent figures were enough to bring smiles to the faces of the children.
In a Christmas message to the nation, GINA said President Jagdeo urged that the spirit of goodwill fill the empty spaces, especially for those who at this time are "needy, sick, lonely, bereaved or enduring unfortunate circumstances. "
Around the Web