A year-old drainage filter installed at the Annandale Pump Station has been wrecked and the Guyana Sugar Corporation (GuySuCo) is replacing it.
But residents lamented that millions were wasted on the filter that caved in. According to residents, the wrecked filter cost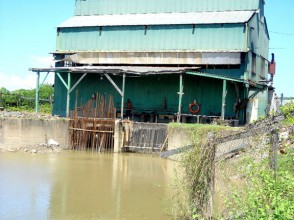 $10M to be installed but this could not be confirmed with GuySuCo officials yesterday. The metal filter had replaced one made with greenheart.
"Dah (the greenheart filter) last for over 15 years and this wah they put on nah last a year," a resident commented. He recalled that the new filter had "cave-in" about three months ago and one section was repaired while repairs to the other half has stopped due to the weather but is expected to resume shortly. He said that debris, including dead animals, had contributed to the cave-in of the filter.
But other residents pointed to the "waste" of money, noting that the new filter was not even a year old when it was wrecked. They noted too that the greenheart filter had lasted for years. The wrecked filter was installed by a contractor but the new one is being installed by GuySuCo.
Another resident noted that it was due to people dumping their garbage into the trench that contributed to the wrecking of the filter. It was pointed out too that a section of the trench has become silted up and it needs to be cleaned.
Currently, at one section, a temporary filter is in place and the pump operates when it needs to.
Around the Web