Smuggling continues to be a major concern along the Suriname/Guyana border with some businessmen alleging that certain officials are in collusion with the smugglers but Guyana Revenue Authority (GRA) head Khurshid Sattaur says the agency needs verifiable information for action to be taken.
"We do get reports (of smuggling) from time to time from public-spirited citizens," Sattaur told Stabroek News recently. He noted that currently he has a warehouse of items seized, including alcoholic beverages, to auction off.  Sattaur said that the GRA investigates when reports are received but in the past, this has led nowhere because of the lack of verifiable information. "Give us names," he said.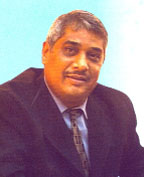 He acknowledged that reports have been received of goods being smuggled with the "alleged facilitation" of officials but stressed that details are needed such and name, times and place. "We need specific information", he said.
Recently, several businesspersons from the Berbice/Corentyne area told Stabroek News that smuggling continues to severely affect their business and alleged that Berbice Anti-Smuggling Squad (BASS) employees are colluding with the smugglers. According to information provided, "a timetable" of where patrols would be at certain times is made available to smugglers ensuring that they go about the illegal activity unhindered. A law enforcement source in the area said that smuggling is an issue but the enforcement is left to BASS.
On of the businessmen being affect by smuggled goods, who imports electrical appliances and agriculture implements, said that there is a lot of competition from the smuggled goods.
The man, who asked that he not be identified, said that in his experience, when he brings goods into the country, Customs re-values the invoice automatically raising the price of the goods. …BASS people are in Berbice to stop the smugglers and they are involved in corrupt transactions.
They are taking money from the smugglers," he said. He added that businesspersons want to bring this to the attention of the GRA. "I am doing a legal business. There is great competition from smuggling."
He recalled an incident where a smuggler was allowed to bring in goods even though the GRA's Enforcement Division in Georgetown was called but all they said was that they were going to look into it. "This is why we are asking the Commissioner-General what is his intention to stop the smuggling," he said, noting that he operates legally and pays his duties.
The businessman said that he has been in business for over ten years, importing agricultural machinery but about a year ago, he started to import household appliances such as televisions and fridges. He noted that the categories of duty for these are at 20% and 16%. He said that the authorities should look into the problem.
But, according to Vishnu Durga, President of the Upper Corenytne Chamber of Commerce (UCCI), most things are "passing through the system." He said that in recent times, nearly everything that comes in, the GRA charges duties and taxes on. "I don't believe it was a big problem as it was in the past. We see more and more things going through the mains", he said. He said that the Chamber has meetings with both the GRA and BASS regularly and has lobbied for the GRA to have more manpower.  "We've always been against smuggling," he said. The Chamber has about 60 financial members.
Smuggling is a concern, Adrian Anamayah, the public relations officer for the Central Corentyne Chamber of Commerce told Stabroek News recently, noting that legitimate businesses have to match smuggled goods. However, he said that in recent times, there has been a crackdown as far as they know and smuggling is not as rampant as happened in the past. Enforcement is better but there is "still much more to be done," he said. He noted that the smugglers "bring over everything" including electrical appliances in particular, and also groceries.
Another Berbice resident pointed out that with smuggling, the GRA loses revenue and estimated that it could run into millions per week. This newspaper was told that items such as Red Bull, other energy drinks, oil, cigarettes, alcohol, mosquito coils are among the items smuggled. The resident said that while the level of smuggling has decreased somewhat, it is still at a high level. Noting the allegations made about BASS, the resident said that the agency is "too complacent" and has worked with some of the smugglers.
But Sattaur said that sometimes reports are made with other motives, such as getting personnel removed. Noting that BASS serves a very important purpose and is the deterrent and enforcement arm of the GRA in the area, he said that when some inquiries are done, the suggestion is that persons want "certain people are to be removed."
He reiterated that for the reports to be properly investigated; specific information is needed and reports can even be made anonymously.
He noted that the agency is working and has caught smugglers and at the moment, there is a warehouse full of seized items, including alcoholic beverages, to be publicly auctioned.
Around the Web