(Trinidad Express) Prime Minister Kamla Persad-Bissessar on Tuesday outlined a three-step crime plan as she admitted that crime in this country was a "challenge" for her Government.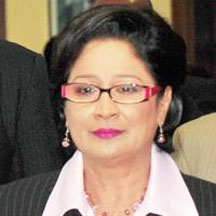 "Crime remains our greatest challenge. We have been working on a holistic way of fighting crime," the Prime Minister said.
Emphasis, she said, will be placed on finding the criminals. "… this area, it has to do with the law enforcement, the law enforcement agencies of the State, that is to say that you enforce the law, you find criminals," Persad-Bissessar said.
She said while the murder toll was less than last year's toll at this same period, it still was not cause for jubilation. The murder toll as of last evening, according to the Express' count, stood at 473, 22 fewer than at the same period last year. Last year's final murder toll was 509.
The Prime Minister was speaking at her Siparia constituency office, where she distributed National Self-help Grants to assist residents with minor home repairs.
She outlined the other stages of the crime plan, which includes poverty reduction in the most vulnerable areas. "Those are the areas of primary concern, where we can nip the criminal before the criminal becomes a criminal," Persad-Bissessar said.
She said this will be done by providing opportunities through education, social services delivery and community development.
The Prime Minister said this is already being done and the results will be seen in the long-term. The second level, Persad-Bissessar said, is finding the criminal.
"Today I believe the secondary level is the most important and that secondary level has to be the higher visibility of police and law enforcement officers out there and the greater enforcement of the law itself … and so as we continue to work with law enforcement officers in each sector, there are specific details, some of them can be disclosed to the public, some will not be disclosed to the public," she said.
Persad-Bissessar's comment came as the country reels from the killings of five people between Sunday and Monday, two of them mothers. Mother of four, Sandra Henry, 48, of Cocoyea Village, San Fernando, was killed by a stray bullet in Marabella as gunmen opened fire on Anton Jim Jones, 28, of St James Street, Marabella. Jones's body ignited during the shooting. Police recovered more than two dozen spent shells at the scene.
Abdul Mason, 25, of Laventille, and Nathan Raymond, 20, of Santa Cruz, were also found shot dead close to their homes on Monday. And on Sunday night, Debbie Maloney, a mother of seven, was shot multiple times about her body at her La Horquetta home.
The third level of the crime plan, Persad-Bissessar said, is the Judiciary.
" …. we have to go at the level of the Judiciary as well and give the support to the judiciary, such as is necessary to improve the administration of justice in Trinidad and Tobago," she said.
Around the Web