Toilet situation at Region Three school dire
– students relieving themselves in the yard
Regional education officials in Region Three are said to be working to renovate a sanitary facility at the Meten-Meer-Zorg Primary School on the West Coast Demerara, which has been in a deplorable state for years now, according to parents of students attending the school.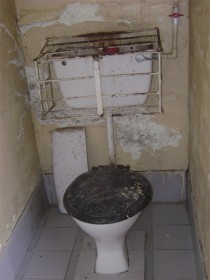 When Stabroek  News visited the primary institution yesterday, officials at the school said officers attached to the Vreed-en-Hoop office of the Education Ministry visited the school recently and made commitments to remedy the situation. Several parents, however, did not appear impressed yesterday; some stating that they had been promised an improvement of the sanitary facility at the school several years now but those promises appeared futile."Is only because somebody write a letter in the newspaper that something look like it doing," a parent told this newspaper yesterday.
The issue was highlighted in last Friday's issue of this newspaper, when PNCR parliamentarian Mervyn Williams stated in the letter columns of this newspaper that the issue posed a serious health risk to the 500 students attending the school.
According to a teacher at the learning institution, children at the school had resorted to relieving themselves at the back of the compound of the school. He said that the sanitary facility in the school dedicated for use by teachers was also in a similar state.
Yesterday during the lunch period at the time, several female students were observed relieving themselves in the grass, on a septic tank, and in the passageway of the section of the sanitary block dedicated to female students. At the side of the sanitary area, at the northern side of the school compound, close to a broken section of the nearby fence, male students were relieving themselves.
Inside the sanitary block, the situation appeared worse and according to a parent standing nearby, "no human could survive in deh".
A mother of two female students attending the school told Stabroek News that her daughters initially, "used to run home," whenever the time arose for them to use the washroom but her children have since grown immune, using, "what is available at the school right now". Other parents gave similar accounts.
A senior official at the school told this newspaper that the Region Three education department made available to the school, the services of a plumber, pipes and necessary pipe fittings recently to enable water to be available to the school including the sanitary area.
Several parents told this newspaper at the school that there had been several instances when the issue was raised at Parent Teachers Association (PTA) meetings but the authorities appeared to have paid no attention to the situation. A parent told this newspaper that the underlining issue of the availability of water for use within the sanitary block had reduced the situation to what it is today. She said that from the onset the school's administration should have made the necessary arrangements to fix the situation.
Most Read This Week