International Tennis Federa-tion (ITF) Level two Coach Anthony Jeremiah yesterday wrapped up a week-long series of sessions for coaches, players and their parents facilitated by the Guyana Lawn Tennis Association (GLTA).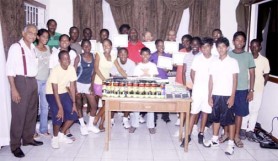 The sessions began on April 19, and ended yesterday, when the seven coaches who participated received ITF certificates of completion, for their participation.
At the presentation ceremony held in the office of  Ram and McRae Chartered Accountants, Jeremiah thanked the GLTA for the hospitality that was shown to him and said that he was very grateful to the parents for their committed support.
This was echoed by GLTA President Christopher Ram, who commended the parents for their support, stating that whenever the association asked for help they were never hesitant.
Ram extended the association's gratitude to Jeremiah for input into the sport here, noting that while Jeremiah had made multiple visits to Guyana this was the first time he made a direct input to tennis in Guyana.
Meanwhile, a donation was also made to the GLTA from the Toronto Friends of GLTA, a Canada-based group initiated to assist tennis in Guyana.
The donations were handed over by Brian Fung, a Canada-based former leading Guyanese tennis player. The donation consisted of 17 rackets, 22 sets of strings and 24 cans of tennis balls.
Fung said the small donation was only the beginning of what the Toronto Friends had to offer. "This is just a small token of our support. We look forward to supporting in any way the organization needs, whether equipment, financial or otherwise," said Fung.
He pointed out that over the years tennis has made a great improvement in Guyana and that he was especially happy to see so many more youth involved in the sport now compared to "back in my days".
He advised that the association could encourage the young to play and play to win if the individuals were offered monetary prizes as incentive, stating that the Toronto Friends would be more than happy to sponsor this.
Around the Web